Point Park falls in five sets to NCAA Division II Fairmont State
Oct. 1, 2012 at 11:45 p.m. ET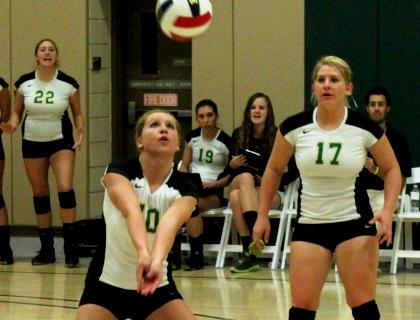 Margaret Gillooly (10) and Amanda Ardinger (17) work on defense in Monday's match. Photo by Olivia DiYanni.
PITTSBURGH -- Point Park University let on slip away Monday night when it lost a non-conference volleyball match to Fairmont State University, 3-2, at the Student Center Gym.
The Pioneers (16-4, 4-1 KIAC) were leading the fifth set, 12-7, but NCAA Division II Fairmont State (11-5, 3-0 WVIAC) erased the deficit to tie things up at 13-13. Point Park fended off a match point to tie it up once again at 14-14, but the Fighting Falcons scored the next two points to win.
Fairmont State won by scores of 22-25, 25-20, 25-13, 19-25, 16-14. It was just the second time ever that the Pioneers lost at the Student Center Gym and the first time it happened in five sets. The last time Point Park lost a five-setter at home was 3-2 to Shawnee State, at the time one of the top teams in the NAIA, on Oct. 18, 2008.
Point Park is now 1-2 on the year when a match goes to five sets. The Pioneers beat Shawnee State Sept. 15 and lost at No. 19 IU East Sept. 22.
Even though the Pioneers won the first set, 25-22, they had to rally back from a 19-15 deficit to do it. A lull by Point Park midway through the second set allowed Fairmont State to take control, and it carried over to the third set, which was won by the Fighting Falcons by a 12-point margin.
The Pioneers played well in the fourth set and posted a hitting percentage of .467 in the frame to force a fifth set. The momentum carried over to the decisive set, but Fairmont State stole it back with some big kills late.
Senior outside hitter Lindsey Oberacker, from Erie, Pa., had a season-high 20 kills and also 17 digs. Senior middle hitter Livia Caluori added 13 kills and four blocks while Chelsea Katkich totaled 10 kills and one block.
Nicole Wurstle added seven kills and four blocks. Keaton Sausman added four blocks of her own. Setter Tayler Pugliese had a strong match with 49 assists, 10 digs, six kills and two blocks.
Defensively, libero Alyssa Hall led the team with 18 digs, and Amanda Ardinger chipped in nine digs.