Point Park drops non-conference match at Alderson-Broaddus, 3-1
Oct. 13, 2012 at 11:15 p.m. ET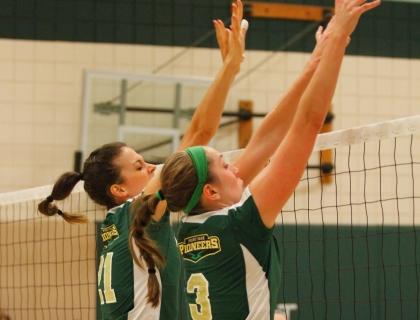 Nicole Wurstle (3) and Livia Caluori (21) each had five blocks in Saturday's loss. Photo by Evan Skowvron.
PHILIPPI, W.Va. -- Point Park University was edged by a very hot Alderson-Broaddus College team, 3-1, in a non-conference volleyball match on Saturday evening.
Alderson-Broaddus (11-13, 5-1 WVIAC) of NCAA Division II won for the 10th time in 11 matches by beating Point Park (20-5, 4-1 KIAC) by scores of 25-22, 26-24, 19-25, 26-24.
Trailing 2-0, Point Park battled back to win the third set, but was outlasted in the decisive frame, 26-24. In what was a close match, the Pioneers couldn't afford their 14 service errors and 15 receiving errors. The 15 receiving errors were the most all year, and the 14 service errors were the most in a match that didn't go five sets.
Junior right-side hitter Nicole Wurstle, from Valley City, Ohio, had a good match with 12 kills, five blocks and a .450 attack percentage. Alongside her up front was middle hitter and Switzerland native Livia Caluori with 13 kills and five blocks.  Fellow middle hitter Keaton Sausman added five blocks of her own, and the Pioneers had 12 total blocks as a team.
Senior outside hitter Lindsey Oberacker totaled nine kills, 15 digs and two blocks. Senior setter Tayler Pugliese added 40 assists and three blocks. Alyssa Hall and Amanda Ardinger had 16 and 13 digs, respectively, in the back row.
Point Park's strong play up front went in line with its NAIA statistical rankings. The Pioneers rank ninth in the NAIA in hitting percentage at .276 and are 11th in the country in blocks per game at 2.54.
Point Park's next match is at home on Wed., Oct. 17 vs. NCAA Division III power Emory (Ga.) at 7 p.m.. The Atlanta, Ga.-based school is 21-3 and ranked No. 6 in NCAA DIII. The Eagles are on a nine-match swing through Pennsylvania that includes this weekend at an event at fellow University Athletic Association school Carnegie Mellon.