Point Park drops non-conference match to NCAA DIII power Emory (Ga.), 3-0
Oct. 17, 2012 AT 11:15 P.M. ET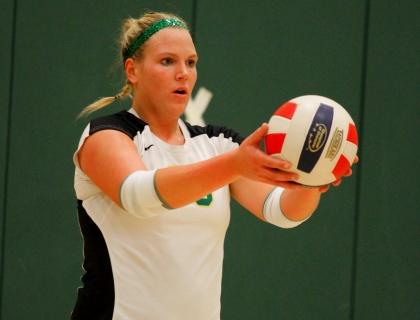 Lindsey Oberacker had a team-high 11 kills in Wednesday's home loss to Emory (Ga.). Photo by Evan Skowvron.
PITTSBURGH -- Point Park University fell victim to a strong Emory (Ga.) University team ranked No. 6 in NCAA Division III, 3-0, in a non-conference volleyball match Wednesday night at the Student Center Gym.
The loss was the second in a row for Point Park (20-6, 4-1 KIAC), which saw its 2012 home record dip to 6-3. The Pioneers had lost just two home matches the previous three years while racking up a 33-2 home record in 2009, 2010 and 2011.
Emory (23-4), based in Atlanta, Ga., and ranked No. 6 in NCAA Division III, won the closely contest match, 25-21, 25-23, 25-20.
In the match, Point Park had a good hitting percentage of .285 -- which is higher than its season average of .269 -- and handled the ball well, but Emory came out on top.
Lindsey Oberacker was the only Point Park player in double digits in kills with 11. Livia Caluori added eight kills and four blocks, and Chelsea Katkich added eight kills as well. Tayler Pugliese doled out 30 assists. Defensively, Margaret Gillooly and Alyssa Hall combined for 17 digs with nine and eight, respectively.
Point Park will get back into Kentucky Intercollegiate Athletic Conference play for the first time since Sept. 18 this Saturday when it hosts IU Southeast (13-10, 5-1 KIAC) and Berea (Ky.) (11-10, 5-3 KIAC). The match versus IU Southeast begins at 11 a.m. in the Student Center Gym with the Berea match to follow at 1 p.m.
Saturday will be Volley for Vision for the Point Park volleyball program, and all proceeds from the match and related activities will benifit ROPARD. For more information on Volley for Vision, visit the event's Facebook page. To learn more about ROPARD, visit www.ropard.org
Admission for the Volley for Vision matches is a suggest donation of $5 for adults and $2 for students. Gate receipts and all other proceeds will be directly donated to ROPARD for its fight against low vision and blindness related to premature birth.
Follow the Pioneers on Twitter @PointParkSports and @PointParkVB.