Point Park beats RV Taylor (Ind.), loses to No. 11 Georgetown on Day 2 of Brawl
Oct. 27, 2012 at 11:59 p.m. ET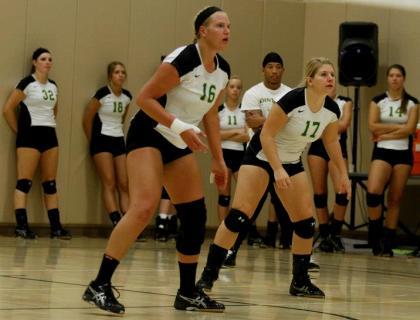 Lindsey Oberacker (16) reached an impressive milestone on Saturday. Photo by Evan Skowvron.
STATS vs. TAYLOR,  STATS vs. GTOWN
GEORGETOWN, Ky. -- The Point Park University volleyball team earned another split on Day 2 of the Boneyard Brawl hosted by Georgetown (Ky.) College as the Pioneers swept RV Taylor (Ind.), 3-0, and lost to NAIA No. 11 Georgetown (Ky.), 3-0, on Saturday.
Point Park (25-8, 6-1 KIAC) also had a split on the first day of the event, which was made up of some of the top teams in NAIA volleyball. The Pioneers beat No. 5 Lee (Tenn.), 3-2, and lost to Indiana Tech, 3-1, on Friday to start their weekend. Point Park is in the 'others receiving votes' section of the NAIA Top 25 Poll at No. 31 overall.
Point Park's win over Taylor took similar form in all three sets as the Pioneers won, 25-22, 25-22, 25-22. The Pioneers gave No. 11 Georgetown a good battle but lost that match, 25-22, 28-26, 25-22.
It was a milestone day for Point Park senior outside hitter Lindsey Oberacker, who reached a marquee feat. Oberacker had 10 kills and 10 digs in the win over Taylor (20-15, 13-4) to give her exactly 1,000 digs in her career. It is unique because, Oberacker, as a 6-rotation player, is just the second player in the history of Point Park volleyball with 1,000 career kills and 1,000 career digs.
Oberacker, from Erie, Pa., had nine kills and 14 digs versus Georgetown (28-3, 13-0) to give her career totals of 1,780 kills and 1,014 digs. Rachel Roddy (2007-10) is the only other Point Park player to accomplish that feat. She is the fourth player on the Pioneers' current roster with more than 1,000 digs joining Amanda Ardinger, Margaret Gillooly and Alyssa Hall.
Oberacker was one of four players to get double-digit kills versus Taylor. Livia Caluori and Chelsea Katkich had 11 each, and Nicole Wurstle had 10. Gillooly had a team-high 17 digs. Setter Tayler Pugliese handed out 42 assists.
Point Park had good, solid production from several players in the loss to Georgetown, but it did not have enough points in the end. Katkich led the offense with 13 kills, and Gillooly had 13 digs to lead the defense. Pugliese had a balanced match with 39 assists, nine digs and two blocks.
The Pioneers' middle hitters Livia Caluori and Keaton Sausman joined right-side hitter Nicole Wurstle in putting together some good play at the net. Caluori had five kills and four blocks, Sausman had seven kills and four blocks and Wurstle had seven kills and six blocks.
Point Park's weekend road trip continues with a visity to Midway (Ky.) College to play St. Louis College of Pharmacy in a KIAC match. The match will be played on a neutral court as the teams are meeting in the middle to reduce travel.