NAIA No. 25 Point Park clinches No. 2 seed in KIAC Tournament on Senior Day
Nov. 3, 2012 at 11:55 p.m. ET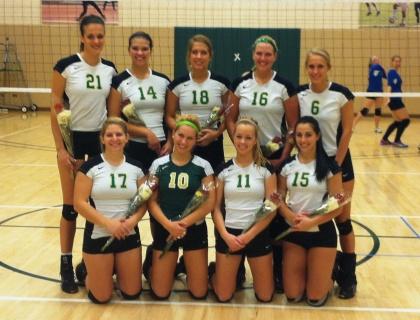 Point Park Volleyball 2012 Seniors honored on Senior Day (Front Row L to R): Amanda Ardinger (17), Margaret Gillooly (10), Alyssa Hall (11) and Tayler Pugliese (15). Back Row (L to R): Livia Caluori (21), Kirsten Burkes (14), Ashley Campbell (18), Lindsey Oberacker (16) and Amanda Wenger (6).
PITTSBURGH -- Point Park University clinched the No. 2 seed in next weekend's Kentucky Intercollegiate Athletic Conference Volleyball Tournament by picking up a pair of conference wins at home Saturday over Cincinnati Christian, 3-0, and Alice Lloyd, 3-0.
Playing for the first time-ever as a nationally ranked team, NAIA No. 25 Point Park (28-8, 9-1 KIAC) took care of business in both matches. The Pioneers beat Cincinnati Christian (16-14, 6-4 KIAC) by scores of 25-19, 25-14, 25-9.
Then, Point Park overpowered the Alice Lloyd (0-13, 0-9 KIAC) team that is in its second year of volleyball, 25-5, 25-4, 25-12. The Pioneers hit an amazing .596 as a team in that match.
It was Senior Day for the Pioneers, who had nine seniors play two of their final matches at home for their careers.
With the pair of wins, Point Park concluded its KIAC schedule with a final league record of 9-1. NAIA No. 14 IU East (40-3, 10-0 KIAC) wrapped up the No. 1 seed in the KIAC Tournament on Saturday. Point Park will be the No. 2 seed, and like IU East, will get a first-round bye in the 11-team, single-elimination tournament that will be Nov. 9-10 at Cincinnati Christian.
Point Park's first match in the KIAC Tournament is schedule for 7 p.m. on Friday, Nov. 9 vs. TBA. The final KIAC bracket will be released by the league office this coming week. The KIAC Tournament champion will receive the league's automatic bid to the NAIA national tournament.
Livia Caluori, a senior middle hitter from Swizterland, had a huge day for Point Park with 13 kills and seven blocks versus Cincinnati Christian and 10 kills and a .750 hitting percentage versus Alice Lloyd.  Lindsey Obereacker totaled nine kills, and Nicole Wurstle and Keaton Sausman had five each.
Seniors honored on Senior Day were Amanda Ardinger, Kirsten Burkes, Ashley Campbell, Livia Caluori, Margaret Gillooly, Alyssa Hall, Lindsey Oberacker, Tayler Pugliese and Amanda Wenger. The senior class has a record of 125-32 in its career, which equates to an .800 winning percentage.