#24 Point Park outlasted by NCAA DII #19 Wheeling Jesuit in Top 25 Showdown
Nov. 6, 2012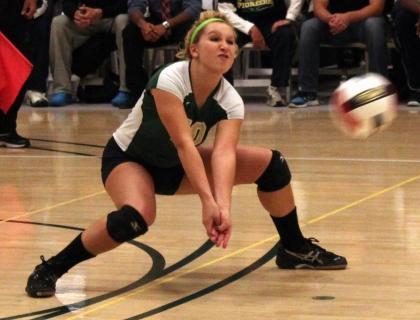 Margaret Gillooly had 23 digs for Point Park on Tuesday. Photo by Olivia DiYanni.
PITTSBURGH -- Point Park University, ranked No. 24 in the NAIA Volleyball Top 25, lost a closely contested match to NCAA Division II No. 19 Wheeling Jesuit on Tuesday at the Student Center Gym.
Point Park (28-9, 4-1-1 KIAC) was ahead, 2-1, but Wheeling Jesuit (30-2, 12-0 WVIAC) came on strong the last two sets to take the match out from under the Pioneers. Wheeling Jesuit won by scores of 14-25, 26-24, 22-25, 25-14, 15-7.
Point Park moved up one spot to No. 24 in the NAIA Top 25 Poll that was released on Tuesday evening. The Pioneers are gearing up for the KIAC Tournament Nov. 9-10, at which they will be the No. 2 seed and receive a first-round by. The 11-team, single elimination tournament will be held at Cincinnati Christian.
In the loss to Wheeling Jesuit, Lindsey Oberacker had 14 kills, eight digs and six blocks. Tayler Pugliese added 43 assists and seven lobks. Point Park had 16 total blocks as a team, and Keaton Sausman tied for the team lead with seven blocks to to along with five kills.
Nicole Wurstle and Chelsea Katkich added nine kills each, but it wasn't enough. Alissa Ware had 16 kills to lead three Wheeling Jesuit players with double-digit kills. Jenna Pew added 15 kills and 26 assists.
Visit the volleyball page on the Point Park athletics website for the complete KIAC bracket as it becomes available later this week.
Follow the Pioneers in Twitter @PointParkSports and Facebook.com/PointParkAthletics