Pioneers open 2012 with two wins, knock off No. 22 Cornerstone at Mich.-Dearborn
Posted on Aug. 24, 2012 at 10:30 p.m. ET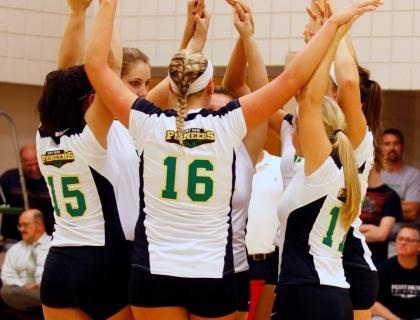 Pictured: The Pioneers get ready for a match in the 2011 season. Photo by Evan Skowvron.
BOX SCORE vs. TIU   BOX SCORE vs. CU
DEARBORN, Mich. -- The Point Park University volleyball team opened the 2012 season with a pair of nice wins at the Early Bird Challenge hosted by Michigan-Dearborn. The Pioneers (2-0) topped Trinity International (Ill.), 3-0, and then knocked off No. 22 Cornerstone (Mich.), 3-1.
The win over Cornerstone (1-1) is believed to be the first win in program history over an NAIA Top 25 team. Point Park, which as 5 of 6 starters plus the libero returning from last year's team that was 36-6 overall and made the national tournament, is rated in the 'others receiving votes' section of the NAIA Preseason Top 25 Poll.
Complete game-by-game records are not available for the entire history of the Point Park volleyball program, which was started in 1991. But a win over a Top 25 team has not happened for the years results are on record.
Play continues on Saturday with more tough matches for the Pioneers. Point Park faces Indiana Tech at 10:30 a.m. and Madonna (Mich.) at 2:30 p.m. Indiana Tech is receiving votes nationally at No. 27 overall, and Madonna is No. 16 in the NAIA. Indiana Tech beat Point Park, 3-1, in the NAIA National Championship Opening Rd last year.
In the win over Cornerstone, Point Park dropped the first set, 18-25, but battled back to win the next three, 25-20, 25-22, 25-23. The Pioneers rattled off the final five points of the fourth set to clinch the win.
Point Park did not have a great hitting percentage (.154) in that first set, but it posted a .300 percentage in the final three sets. The Pioneers also played strong defense with four players racking up double-digit digs. Libero Alyssa Hall had 18 digs and fellow defensive player Margaret Gillooly added 15 digs.
Outside hitter Lindsey Oberacker tallied 12 kills and 13 digs, and setter Tayler Pugliese recorded 39 assists and 14 digs in the win over Cornerstone. Outside hitter Chelsea Katkich chipped in 14 kills to add to the offensive attack.
In the win over Trinity International (0-2), Point Park had a balanced attack although Oberacker led the way with 12 kills, five digs and two blocks. Katkich added nine kills and three blocks while newcomer Livia Caluori, a 6-3 middle hitter from Switzerland, totaled seven kills and four blocks.
Other contributors who picked up points were Keaton Sausman with eight kills, and Nicole Wurstle with five kills and three blocks. Pugliese picked up 33 assists, and Hall led the defense with 13 digs.
Notes:
The Early Bird Challenge hosted by Michigan-Dearborn is a very strong tournament and traditional welcomes some of the toughest teams early in the season. To read a full recap of Day 1 of the tournament, visit the Michigan-Dearborn website here: http://www.gowolves.net/article/194.php
Point Park last visited the Mich.-Dearborn Early Bird Challenge in 2008 and went 1-3 there after an opening win. Day 2 included a 3-0 loss to Madonna, which was the last time those two teams met. Point Park went 19-18 in 2008, but is 99-24 (.802) since the start of the 2009 season.