Point Park sweeps Carlow in crosstown, KIAC volleyball matchup, 3-0
Sept. 18, 2012 at 10:00 p.m. ET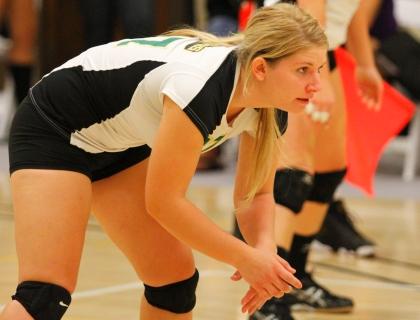 Amanda Ardinger (DS) and the Pioneers are 13-2, 3-0 KIAC. Photo by Evan Skowvron.
PITTSBURGH -- Playing for the first time in a Kentucky Intercollegiate Athletic Conference volleyball match, Point Park University swept Carlow University, 3-0, Tuesday night at St. Joseph's Hall.The local, Pittsburgh rivals had long been members of fhe American Mideast Conference but are now both in the KIAC.
Point Park (13-2, 3-0 KIAC) stayed unbeaten in the KIAC by sweeping Carlow, 28-26, 25-13, 25-10. The Celtics fell to 9-3 overall, 0-1 KIAC.
Livia Caluori and Chelsea Katkich each had 10 kills to tie for the team lead. Lindsey Oberacker added nine kills and a team-high eight digs, and Nicole Wurstle chipped in eight kills and six blocks.
Point Park recorded 15 total blocks with Keaton Sausman leading the way with nine. Caluori added five blocks. Tayler Pugliese set the offense with 33 assists.
The win over Carlow was career victory No. 298 for Point Park's eighth-year head coach Mike Bruno. He is 298-159 (.652) in 13 seasons as a collegiate head coach. Bruno is 182-100 (.623) at Point Park, which includes 110-26 (.808) since 2009. He needs just two more wins to become the 18th active NAIA volleyball coach with at least 300 career wins.
Point Park will now shift its focus to an important tri-match Saturday in Richmond, Ind. There, the Pioneers will play host Indiana East (18-0, 2-0 KIAC), the No. 19 team in this week's NAIA Volleyball Coaches' Top 25 Poll. The Red Wolves are the defending KIAC champions and top-ranked team in the conference.
Point Park is in the 'others receiving votes' section of this week's Top 25 Poll. The Pioneers moved up five spots this week and are rated as the No. 31 team in the nation. Including all teams who are receiving votes, there are only 40 teams nationwide that are getting national mention.
Point Park will begin Saturday's tri-match by playing KIAC opponent Brescia (Ky.) (0-8, 0-2 KIAC) at 12 p.m. The Point Park-IU East match will follow at 2 p.m. The match versus #19 IU East will be carried on live streaming video on the Red Wolves Sports Network by click this link: WATCH LIVE
View the NAIA Volleyball Coaches' Top 25 Poll (Sept. 18): NAIA TOP 25