Pioneers get back on track with KIAC wins over IU Southeast, Berea
Oct. 20, 2012 at 11:59 p.m. ET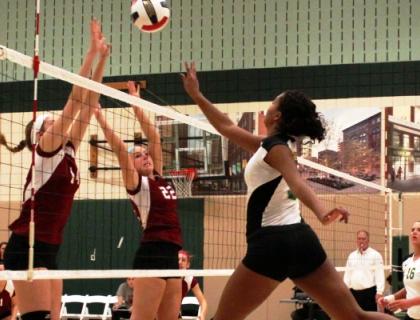 Keaton Sausman puts down one of her 10 kills vs. IU Southeast on Saturday. Photo by Olivia DiYanni.
PITTSBURGH -- After losing two matches in a row for the first time all season, the Point Park University volleyball team got back on the winning track Saturday with two victories in KIAC play. The Pioneers beat IU Southeast, 3-1, and Berea (Ky.), 3-0, at the Student Center Gym to improve to 22-6 overall and 6-1 KIAC.
The victory over IU Southeast (15-11, 6-2 KIAC) was of particular importance because it allowed Point Park to take control of second place in the KIAC standings. NAIA No. 18 IU East is in first place at 8-0, right in front of Point Park and IU Southeast. Berea (11-12, 5-5 KIAC) has the fourth-most wins in the conference.
The IU Southeast match was very close with the teams seperated by a total of seven points the first three sets. But Point Park pulled it out, 25-22, 25-23, 27-29, 25-18. The Pioneers took control of the match with a 2-0 lead by erasing a 22-17 deficit to win the second second, 25-23.
Point Park's offense was in high gear versus IU Southeast as five players registered double-digit kills. Livia Caluori and Chelsea Katkich each had 15 kills and combined for 11 blocks. Lindsey Oberacker added 14 kills and 13 digs, and Nicole Wurstle and Keaton Sausman had 14 and 10 kills, respectively. As a team, the Pioneers had a .316 hitting percentage.
Setter Tayler Pugliese tallied 60 assists and spread the ball around to all the various targets and also added 12 digs. Libero Margaret Gillooly led the team with 20 digs.
Point Park used its bench very liberally in a rout of Berea, 25-11, 25-10, 25-16. The Pioneers' 30 kills were split among 10 players with Chelsea Katkich (7 kills) and Kirsten Burkes (6 kills) leading the way. Katkich hit a perfect 1.000 with seven kills and zero errors in seven attempts.
Freshman setter Cara Bradley led the offense with 15 assists and also picked up three blocks.
Point Park travels to Pitt-Johnstown on Tuesday (6 p.m.) before going to the Georgetown (Ky.) College Tournament next Friday-Saturday, Oct. 26-27. There, the Pioneers will play four matches vs. NAIA No. 5 Lee (Tenn.), No. 11 Georgetown, RV Taylor (Ind.) and Indiana Tech.
Follow the Pioneers on Twitter @PointParkSports and @PointParkVB