Point Park upsets No. 5 Lee (Tenn.), loses to Indiana Tech on Day 1 at Georgetown
Oct. 26, 2012 at 11:05 p.m. ET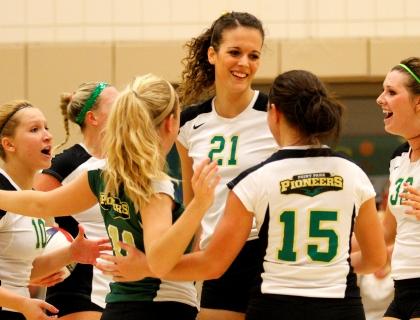 STATS vs. LEE,  STATS vs. IND.TECH
GEORGETOWN, Ky. -- The Point Park University volleyball team pulled most likely the biggest upset in program history with Friday's 3-2 victory over NAIA No. 5 Lee (Tenn.) University on Day 1 of the Boneyard Brawl hosted by Georgetown (Ky.) College.
The Pioneers (24-7, 6-1 KIAC) won the fifth set, 15-2, over Lee (20-8), which had battled back from a 2-0 deficit to force a deciding game.The match went Point Park's way, 25-23, 25-22, 23-25, 15-25, 15-2.
Point Park did not fare as well in its second match of the day as it lost to Indiana Tech, 3-1. Indiana Tech (21-9) won the match, 25-19, 15-25, 25-22, 25-16. It was a great day for the Warriors, who beat No. 11 Georgetown, 3-2, earlier in the day.
With the win over Lee, Point Park improved to 2-2 versus the NAIA Top 25 this year. Point Park is in the 'others receiving votes' section of the rankings at No. 31 overall. The Pioneers continue play at the Boneyard Brawl with two matches on Saturday. The challenging tournament field will offer No. 11 Georetown and RV Taylor (Ind.) as Point Park's opponents on Day 2.
Lindsey Oberacker had a big day for the Pioneers as the senior outside hitter from Erie, Pa., put pu 15 kills, 10 digs and three blocks in the victory over Lee. She also had a double-double versus Indiana Tech with 11 kills and 10 digs.
Other leaders versus Lee included Livia Caluori with 11 kills and five blocks, Nicole Wurstle with 10 kills and two blocks and Tayler Pugliese with 41 assists. Margaret Gillooly had a team-high 21 digs. The loss to Indiana Tech included 12 kills from Caluori and 11 from Wurstle. Gillooly added 15 digs.
Follow the Pioneers on Twitter @PointParkSports and Facebook.com/PointParkAthletics