#24 Point Park falls to #14 IU East, 3-2, in KIAC Finals, will await possible NAIA bid
Nov. 10, 2012 at 8:05 p.m. ET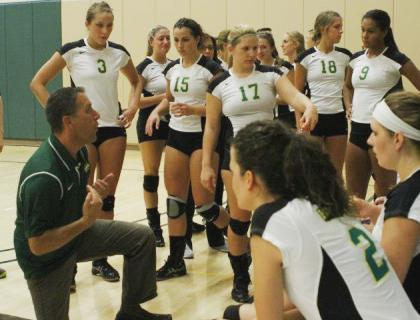 CINCINNATI, Ohio -- NAIA No. 24-ranked Point Park University lost a heartbreaker to No. 14 Indiana East, 3-2, in the KIAC Volleyball Tournament Finals on Saturday at Cincinnati Christian University.
Point Park (30-10, 9-1 KIAC) lost the first two sets to IU East (43-3, 10-0) but battled back to force a fifth set. But the Pioneers had their comeback fall short as they lost in the fifth set, 15-10, to one of the top teams in the NAIA.
IU East won the match by scores of 25-11, 27-25, 16-25, 17-25, 15-10. The Red Wolves beat Point Park at home, 3-2, on Sept. 22, and that match also ended 15-10 in the fifth set.
IU East won its fourth straigh KIAC title and locked up the conference's automatic bid to the national tournament. Point Park, meanwhile, will have to hope for an at-large bid to the 36-team NAIA national tournament.
At No. 24 in the latest NAIA Top 25 Poll, Point Park has a pretty decent shot at getting an at-large bid. The final Top 25 Poll of the year and the official list of national qualifiers will be announced by the NAIA on Sunday, Nov. 11.
Point Park had punched its tickets to the KIAC Finals by beating Asbury (Ky.) University, 3-0, in the semifinals on Saturday morning. Point Park won that match, 25-11, 25-23, 25-18 over Asbury (27-12, 7-3 KIAC).
Point Park's group of nine seniors laid it all out on the line in an effort to get past IU East. If the KIAC can be viewed as worthy of two NAIA qualifiers by national Top 25 voters, it'll extend the careers of those players who almost got the best of IU East.
Senior outside hitter Lindsey Oberacker put up 20 kills and 15 digs in the loss to IU East. Chelsea Katkich, a junior, added 12 kills from the other outside hitter spot. Seniors Tayler Pugliese and Margaret Gillooly had 51 assists and 10 digs, respectively.
Nicole Wurstle added nine kills and three blocks, and Livia Caluori posted six kills and five blocks in the marathon match.
IU East had three players with double-digit kills led by Breezy Strete with 20 kills, Sarah Shilling with 13 and Mallory Livingston with 12. Setter Lauren Crump had 46 assists.
In the win over Asbury, Oberacker totaled 15 kills and seven digs. Katkich came alive for 12 kills while Wurstle added seven kills and four blocks. Pugliese directed the offense with 35 assists.
Point Park's chances for an at-large bid depend largely on the results of conference tournaments around the NAIA. What will hurt the Pioneers' chances is if there are too many upset champions of conference tournaments.
To stay updated on the conference tournaments and for NAIA volleyball info, visit the NAIA volleyball homepage:
NAIA VOLLEYBALL