Pioneers pick up two wins on Day 1 of FSU Falcon Fest, improve to 5-1
Aug. 31, 2012 at 11:59 p.m. ET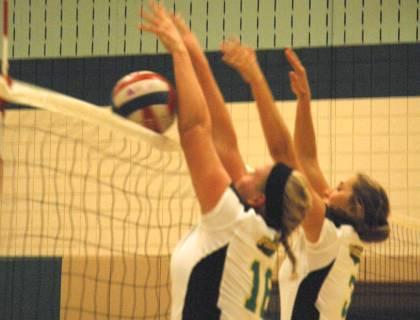 The Pioneers put up big block numbers in their two win Friday at the FSU Falcon Fest. File Photo by Lyddia Ankrom.
BOX SCORE vs. SHU   BOX SCORE vs. WL
FAIRMONT, W.Va. -- The Point Park University volleyball team improved its overall record to 5-1 with a pair of wins on Day 1 of the Fairmont State University Falcon Fest on Friday. The Pioneers (5-1) opened with a 3-1 victory over Seton Hill and closed with a 3-0 sweep of West Liberty.
The match versus Seton Hill was tight the first three sets but went the Pioneers' way, 27-25, 22-25, 25-21, 25-16. Point Park beat West Liberty in straight sets, 25-20-25-18, 25-19.
Point Park continues play at the event on Saturday (Sept. 1) with two more matches versus NCAA Division II competition. The Pioneers face WV Wesleyan at 10 a.m. and Shepherd at 6 p.m.
Three players put up double-digit kills in the win over Seton Hill (1-1) -- Lindsey Oberacker (12 kills), Chelsea Katkich (10) and Livia Caluori (10). Oberacker and Caluori also racked up points on service and on the block. Oberacker had four aces and three blocks while Caluori had six aces and three blocks.
Setter Tayler Pugliese notched 37 assists and 11 digs. Alyssa Hall and Amanda Ardinger had 23 and 19 digs, respectively.
Caluori, a 6-3 senior middle hitter from Switzerland, led the attack with 11 kills versus West Liberty. The Pioneers put up a big block in that contest with 12 total blocks as a team. Sophomore middle Keaton Sausman posted a team-high six blocks, while junior Nicole Wurstle added eight kills and five blocks from the right side. Caluori added three blocks.
The lone blemish on Point Park's overall record thus far is a 3-1 loss to NAIA No. 16 Madonna (Mich.) at last weekend's Mich.-Dearborn Early Bird Challenge. But the Pioneers still tied for second place in that event with a 3-1 showing that included wins over No. 22 Cornerstone (Mich.) and RV (No. 27) Indiana Tech.
Follow us on Twitter @PointParkSports and Facebook.com/PointParkAthletics