Pioneers complete 4-0 weekend at FSU Falcon Fest, tie for first place in tournament
Spet. 2, 2012 at 1:45 a.m. ET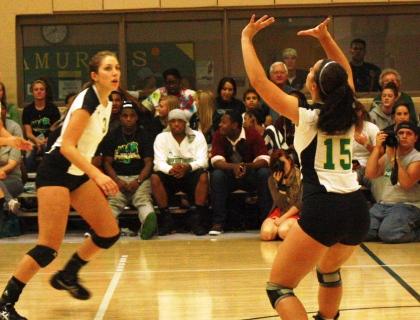 Nicole Wurstle (left) hit .750 with eight kills in the win over WVWC. Tayler Pugliese (15) had 29 assists. Photo by Lyddia Ankrom.

FAIRMONT, W.Va. --Point Park University finished in a tie for first place at the Fairmont State University Falcon Fest after picking up a couple of wins on Saturday (Sept. 1). The Pioneers beat WV Wesleyan, 3-0, and Shephrd, 3-0, to finish off a perfect, 4-0 weekend at the NCAA Division II event. The Pioneers improved to 7-1 overall and are 42-9 versus NCAA Division II schools since the start of the 2009 season.

Point Park cruised to victory over West Virginia Wesleyan (2-1) by scores of 25-18, 25-18, 25-12. The Pioneers' defense gave little room for Wesleyan to operate as Point Park held the Bobcats to an attack percentage of just .075. The Pioneers totaled 42 digs led by Alyssa Hall's 13, and they also forced 17 attack errors by WVWC.

Linsey Oberacker had a team-high nine kills to go with eight digs. Livia Caluori added eight kills and four aces. Nicole Wurstle was very efficient with six kills and zero errors in eight attacks for a percentage of .750. Chelsea Katkich added five hills, and Tayler Pugliese set up the offense with 29 assists.

The Pioneers had an even easier time with Shepherd in winning by scores of 25-13, 25-11, 25-20. The Point Park defense put up another strong effort as it held the Rams to an attacking percentage of -.064

Oberacker totaled nike kills and 10 digs, and Chelsea Katkich chipped in eight kills. Hall contributed 18 digs.

WV Wesleyan had gotten a couple of nice wins on the Day 1 of the tournament on Friday. The Bobcats started their season 2-0 by sweeping Edinboro and winning a five-setter vs. Notre Dame (OH).

Shepherd had also started the event at 2-0 and ended up 3-1 with the lone loss being to Point Park. The Rams beat Edinboro and Notre Dame (OH) the day before.

 

Follow us on Twitter @PointParkSports and Facebook.com/pointparkadleics.