Point Park gets KIAC win over Midway, five-set win over talented Shawnee State
Sept. 15, 2012 at 10:30 p.m. ET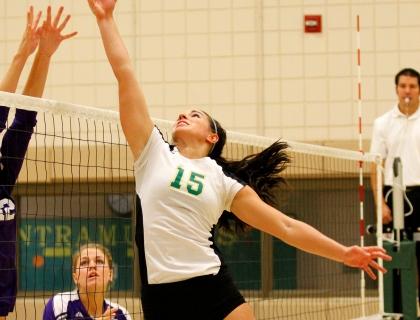 Setter Tayler Pugliese averaged 35.5 assists, 6 kills and 5.5 digs in the two matches. Photo by Evan Skowvron.
BOX SCORE vs. MC   BOX SCORE vs. SSU
PITTSBURGH -- The Point Park University volleyball team had a productive day Saturday at the Student Center Gym as it picked up a 3-0 win over Midway (Ky.) in Kentucky Intercollegiate Athletic Conference play and also registered a five-set win over a talented Shawnee State team, 3-2.
Point Park (12-2, 2-0 KIAC) stayed unbeaten in two KIAC matches by easily dispatching of Midway (0-7, 0-5 KIAC), 25-10, 25-17, 25-6. The Pioneers ended the first set on a 16-1 run and scored the final nine points of the match.
Point Park lit up Midway for a team hitting percentage of .485 in the match. The Pioneers totaled 39 kills and just 6 errors in 68 total attacks.
Nicole Wurstle, a junior right-side hitter from Valley City, Ohio, had a particularly impressive match versus Midway as she hit a perfect 1.000 with eight kills and zero errors in eight attempts. Middle hitter Livia Caluori, from Switzerland, had 11 kills and two errors in 15 swings for a .600 attack percentage.She also added five blocks.
Setter Tayler Pugliese, a senior from Ashtabula, Ohio, recored 32 assists, four kills, three blocks and two aces. Lindsey Oberacker, a senior outside hitter from Erie, Pa., added seven kills.
Point Park totaled 11 service aces in the match led by Margaret Gillooly and Alyssa Hall with three each.
The match versus Shawnee State (8-3, 2-0 MSC) was a quality win for the Pioneers, who came away with the victory, 25-18, 20-25, 25-13, 19-25, 15-12.
The talented Shawnee State team did not go away after Point Park put up a 25-13 victory in the third set. The fifth set was tied at 8-8, 9-9 and 11-11 before Point Park set up a match point at 14-12 and eventually won, 15-12.
Point Park enjoyed a balanced offensive attack as Wurstle (RS), Caluori (MH) and Oberacker (OH) had 10 kills apiece. Those three combined for just five hitting errors. Setter Pugliese added eight kills and zero errors in 12 attempts to go along with 39 assists and nine digs.
Oberacker picked up 22 digs to lead the defense, and Hall had 14. Wurstle totaled six blocks, and Caluori had five.
Shawnee State also had three players register double-digit kills in Tiffany Jackson (11), Paige Zelich (10) and Alex Pohl (10).
Point Park returns to action Tuesday when it visits Carlow for a KIAC match at 7 p.m. Point Park has an important tri-match next Saturday, Sept. 22 when it visits Indiana East to play the nationally ranked Red Wolves along with Brescia.