Point Park sweeps both matches on Day 1 of Pioneer Invitational
Sept. 7, 2012 at 11:59 p.m. ET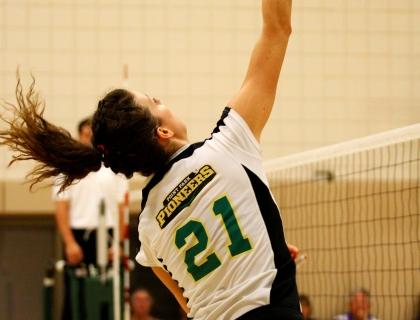 Livia Caluori (21) goes above the net for one of her 10 kills vs. Asbury on Friday. Photo by Evan Skowvron.
BOX SCORE vs. AU, BOX SCORE vs. Rio
PITTSBURGH -- Point Park University picked up a pair of 3-0 sweeps on Day 1 of its 2012 Pioneer Invitational on Friday at the Student Center Gym. The Pioneers (9-1, 1-0 KIAC) opened up with a 3-0 win over Asbury (Ky.) in their first-ever Kentucky Intercollegiate Athletic Conference match and then disposed of non-conference Rio Grande by an identical score of 3-0.
Play continues at the fourth annual event with five more matches in the Student Center Gym on Saturday (Sept. 8). The Pioneers face West Liberty (3-3) at 10 a.m. and Northwestern Ohio (12-1) at 2 p.m.
Point Park kept Asbury (1-4, 0-1 KIAC) at arms length in winning by scores of 25-19, 25-18, 25-19. The Pioneers showed some impressive play early on versus Rio Grande (3-4) and eventually came away with a 25-13, 25-23, 25-18 win.
In the win over Asbury, Point Park was very efficient offensively with a .356 team attacking percentage. Livia Caluori, a senior middle hitter from Switzerland, had 10 kills in 16 attempts and posted a .500 percentage. Lindsey Oberacker had 11 kills with a .346 percentage. Caluori, Keaton Sausman and Nicole Wurstle each posted four blocks, and setter Tayler Pugliese had 32 assists.
The win over Rio Grande had the Pioneers total 10 service aces, and Oberacker led the way with five. Pugliese registered four aces to go along with 31 assists. Caluori had nine kills  and once again hit .500 for the match. Oberacker picked up another nine kills while Wurstle needed only 14 attempts to pick up seven kills. Wurstle and Sausman once again totaled four blocks each. Alyssa Hall tallied 10 digs, which were the most on the day for Point Park.
Other Matches on Day 1
Like Point Park, Northwestern Ohio (12-1) went 2-0 on Day 1. The Racers had to pull out a tough first set but then had a relatively easy time in beating West Liberty, 3-0, by scores of 25-23, 25-19, 25-11. Northwestern Ohio later beat Rio Grande, 3-1, and had to win a marathon fourth set to do it. UNOH won that match, 25-19, 26-24, 22-25, 32-30.
West Liberty salvaged a 1-1 showing on Day 1 with a come-from-behind, five-set win over Asbury, which disappointingly went 0-2 on the day. West Liberty lost the first two sets to Asbury but took the match, 18-25, 20-25, 25-20, 25-23, 18-16. Rio Grande went 0-2 on the day with losses to argurably the two best teams at the event -- Point Park and Northwestern Ohio.
For complete tournament results and updates, visit the Tournament Central page at the link below.
TOURNAMENT CENTRAL