Point Park loses tight match to UNOH, takes second in Pioneer Invitational
Posted Sept. 9, 2012 at 12:30 p.m. ET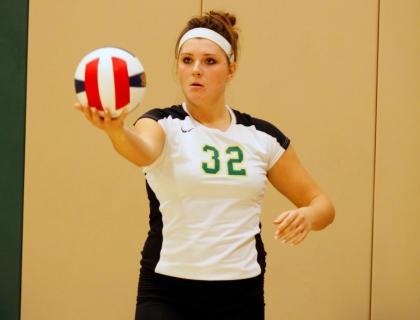 Chelsea Katkich (32) was named to the Pioneer Invitational All-Tournament Team. 2011 photo by Evan Skowvron.
TOURNAMENT CENTRAL  (Results, Final Standings)
BOX SCORE vs. WLU, BOX SCORE vs. UNOH
PITTSBURGH -- The championship in the 2012 Pioneer Invitational hosted by Point Park University came down to a showdown between Point Park and Northwestern Ohio, a pair of teams who were once-beaten on the season and undefeated in their first three matches of the weekend.
In the end, it was Northwestern Ohio (14-1) who came away with the victory in the very tightly contested match that was much closer than the 3-0 final result would indicate on Saturday afternoon. Point Park (10-2) lost for the first time ever in its fourth annual home tournament as UNOH won by scores of 27-25, 26-24, 25-22.
Point Park had beaten West Liberty, 3-0, in its first match on Saturday. The Pioneers were 3-1 on the weekend to take second place in the event. Northwestern Ohio was a perfect 4-0 while West Liberty, Rio Grande and Asbury all tied for third place a 1-3.
Point Park beat West Liberty 25-22, 25-22, 25-14. West Liberty, an NCAA Division II team, is 3-5 on the year.
The loss to UNOH snapped a lot of streaks for Point Park. It ended a streak of 21 straight home wins dating back to Oct. 14, 2010 (Mt. Vernon Nazarene), a streak of nine straight home wins to open the Student Center Gym since it was established in 2011 and a streak of 14 straight wins at the Pioneer Invitational since its first year of 2009.
Point Park is 14-1 all-time in its annual tournament and 9-1 all-time playing in the Student Center Gym.
Point Park and Northwestern Ohio were never seperated by more than four points during any of the sets. Point Park was just a few points away from being up 2-0, but Northwestern Ohio made some key plays at the end of each of the first two sets to go up two sets to none by the narrowest of margins -- four total points.
Livia Caluori, Point Park's 6-3 middle hitter who played for the Swiss National Team the last three years, put up 14 kills, four blocks and a .500 attacking percentage vs. UNOH. She had four kills and six blocks versus West Liberty and also had a strong showing on Day 1 of the event to earn a spot on the all-tournament team.
Joining Caluori on the all-tourney squad was Point Park outside hitter Chelsea Katkich, who had seven kills vs. UNOH and eight kills and two blocks versus West Liberty.
UNOH right-side hitter Emily Crowell was the tournament MVP with 10 kills and four digs versus Point Park. Casey Gates (OH) was also on the all-tourney team with 12 kills and 18 digs versus the Pioneers. Brittany Egbert (MH) added a big performance of 12 kills and six blocks in the final match.
Point Park's Lindsey Oberacker added seven kills and 11 digs versus UNOH. Nicole Wurstle had six kills and no errors in 13 attempts and also posted two blocks. Tayler Pugliese handed out 34 assists.
In the win over West Liberty, Oberacker and Wurstle tied Katkich for the team high with eight kills each. Those three combined for 24 kills and just two errors. Pugliese totaled 18 assists while sharing the setting duties with freshman Cara Bradley (9 assists). Alyssa Hall was strong on defense with 19 digs.
Point Park is off until next weekend when it hosts Midway (Ky.) and Shawnee State for a tri-match. The match versus Midway (Ky.) is a KIAC match at 11 a.m. The Pioneers play Shawnee State at 3 p.m.