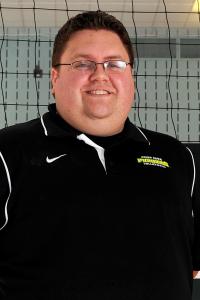 NEAL BROWN -- Volleyball Assistant Coach   (Twitter @CoachBrownVB)
8th season at Point Park
Alma mater: Penn State '03
The 2014 season will be Neal Brown's eighth season as an assistant coach on the Point Park volleyball staff. Brown has several years experience on the college and high school levels, which has helped the Pioneers reach new heights during his time at Point Park.
Brown's primary responsibilities include scouting opponents, providing instruction in practices and games, compiling statistics and serving as the head coach of Point Park's developmental team, the Gold Team. The Gold Team was started in 2008, and Brown guided it to a record of 32-8 since its inception.
Brown's work on the high school level includes time as an assistant at Upper St. Clair and Mt. Lebanon. In 2001 he helped Mt. Lebanon win the WPIAL championship and reach the PIAA playoffs. 
Brown attended Penn State and assisted the men's volleyball team as a manager and statistician. He helped the Nittany Lions win the EIVA conference championship and reach the NCAA semifinals. 
His experience as a player includes his time on the Penn State club team, and being a key member for a two-time WPIAL championship teams at Mt. Lebanon.  His high schools teams reached the PIAA tournament three times. 
Brown is the associate director of the Pittsburgh Three Rivers Volleyball Club. Alongside club director Mike Bruno, he has helped build Pittsburgh Three Rivers into one of the most successful club volleyball organizations in Western Pennsylvania.
Brown's experience also includes coaching at several summer camps in the region.
Brown comes from a volleyball family. His father, Mike, has been involved as a coach and official the last 35 years. His sister, Amy, played collegiately at Buffalo and is the coach at NAIA member Univ. of Illinois Springfield. His sister, Caryn, plays on the Penn State club team.
Brown and his wife Kristin reside in Upper St. Clair.
KELLEN PETRONE -- Volleyball Assistant Coach
2nd season at Point Park
Alma mater: Duquesne '08
Kellen Petrone is in his second season as an assistant coach for the Point Park volleyball program. He joined the staff for the 2013 season.
Pentrone has experience on the NCAA Division I level as an assistant coach at UNC-Asheville from 2010-11 and at Robert Morris in 2009. The 2008 graduate of Duquesne University was an assistant at Robert Morris in 2009 and was the program's interim head coach in the spring season of 2010. He then moved on to UNC-Asheville, where he spent two seasons.
Petrone founded the Duquesne Men's Volleyball Club, and was its president from 2004-08. He began his coaching career as an assistant boys' volleyball coach at Fox Chapel and Moon Area high schools. Petrone played high school volleyall at Pittsburgh Central Catholic.