Point Park Volleyball 2014 Season Preview: Pioneers take aim at return to form
Aug. 22, 2014 at 4:00 p.m. ET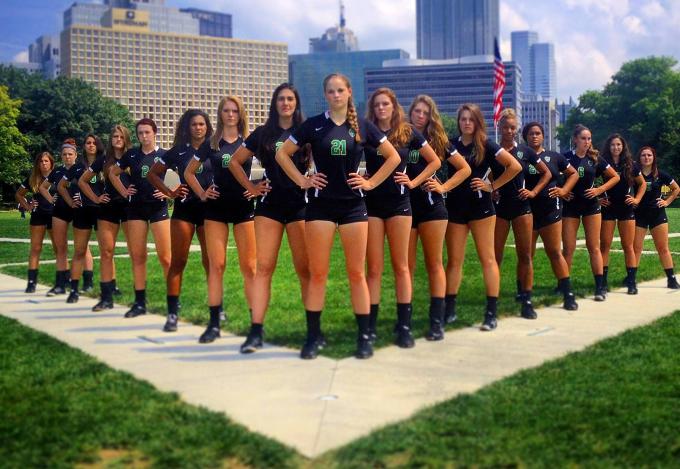 PITTSBURGH -- Last season was a transition year for Point Park University volleyball. Although it was the Pioneers' fifth-straight 20-win season at 21-19 overall, it was under the prolific pace the program had been under the previous four years.
Lost to graduation were the 10 seniors who led the Pioneers to an average of 32 wins per season from 2009-12. On top of that, key injuries were sustained, most notably to senior outside hitter Chelsea Katkich, one of only two seniors on the team. That left fellow senior Nicole Wurstle as the only returning starter, and she had a great year with team highs of 402 kills and a .376 attacking percentage.
Fast forward to 2014, and the Pioneers have virtually the entire roster returning. And they've added to that some newcomers who will start right away. And despite the adversity of 2013, Point Park still reached the semifinals of the KIAC Tournament.
For the upcoming season, Point Park is taking aim at returning to the top of the conference and resuming its place as KIAC contenders. The Pioneers begin the season Aug. 22-23 at the Volley in the Mountains hosted by Montreat (N.C.) College.
Watch Live as Point Park plays host team Montreat on Aug. 22 at 7 p.m. ET.
"We have a lot of returners, several new faces, and its a fun group," Point Park's 10th-year head coach Mike Bruno told the Pioneers YouTube Channel. "Last year we had a lot of adversity. It was a slight hiccup. But this year I think we have the personnel to take it back to the next level this year."
Wurstle and Katkich, the latter of which missed most of the 2013 season due to injury, were the only players who graduated after last year. Point Park has 9 of 12 letter winners and 5 of 6 starters plus their libero back for 2014.
"We had a good recruiting class, and we have almost the entire corps back from last year," said Bruno in another YouTube interview. "There are some newcomers battling for spots, and the returners are doing the same. It's been a very competitive gym in the preseason."
Coach Bruno lists strengths of the 2014 team as defense, ball control and being able to spread the attack around to several hitters. As for the attack, the Pioneers are returning seven of their top eight leaders in kills from last year.
The returning leader in kills is senior OH Roxanne Grundmeier (Schaller, Iowa/Des Moines Area CC), who had 316. Also returning is sophomore OH Shiloh Simonson (Venetia, Pa./Peters Twp. HS) with 187, sophomore MH Nikki Inquartano (Pittsburgh, Pa./Shaler Area HS) with 177 kills and 134 blocks and junior MH Cristiane Chaves (Recife, Brazil/Indian Hills CC) with 171 kills and 123 blocks. Another arm that's back is junior Isabella Vavrek (Aliquippa, Pa./Hopewell HS), who 84 kills.
Simonson, Point Park's top all-around player, will man one of the outside hitter spots and take on a role as a six-rotation performer. Bruno lists the other outsider hitter spot as a preseason battle between freshman OH Kristi Chenarides (Pittsburgh, Pa./Pine-Richland HS) and Vavrek.
The Pioneers added two attacking players in their five-person recruiting class with the other one being freshman OH/RS Ashley Taylor (Pittsburgh, Pa./North Hills HS), who is the front runner at the right-side hitter position coming out of camp. Grundmeier is another player who is battling for a spot in the front row.
Point Park is strong at middle hitter with not only Inquartano and Chaves returning but also junior Keaton Sausman, who sat out last year, back in the mix. Those are the top three players battling for the two middle hitter positions as the season starts. Sausman had 122 kills and 144 blocks as a sophomore in 2012. Also on the depth chart at middle hitter is sophomore Katie Baynum (York, Pa./Spring Grove HS).
Point Park returns starting setter Cara Bradley, a junior who had 1,291 assists and 106 blocks last year in her first year as a starter. The Pioneers also added NCAA Division I transfer Emily Meng (Indianaplis, Ind./Lawrence North HS) from Wright State. Meng, a former all-state player in high school, was fourth in the Horizon League with 9.88 assists per set.
Defensively, the Pioneers return Olivia Fisher (Janesville, Iowa/Des Moines Area CC), who led the team with 623 digs last year. A newcomer who will make an impact right away is freshman Tabea Dalliard from Morel-Filet, Switzerland, who coach Bruno said won the libero job in the preseason.
Joining Dalliard and Fisher in making up the back row will be junior Paige Baker (Kittanning, Pa./Elderton HS), who is in her second year in the program after transferring from Seton Hill, and also Simonson when she rotates to defense. Providing depth in the back row are senior Kelsey Veydt (Cecil, Pa./Canon-McMillan HS) and freshman Juliana Ross (Pittsburgh, Pa./Seton-LaSalle HS).
Preseason Quotes from head coach Mike Bruno:
"Our passing numbers in serve-receive in the preseason have been better than the last few years. The first contact sets the tone for the rally, and that part has been good. The energy and relentlessness of our defense have really picked up. And offensively, the kids are really getting after with some big, aggressive swings at the net."
"Our backcourt is stronger than we've ever had here, which is really exciting. We have Olivia Fisher coming back. Paige Baker is having a great camp. Adding Tabea Dalliard and then mixing in Shiloh Simonson as a six-rotation kid, we have a very impressive back court, in my opinion."
"I think that the big thing is keeping these kids hungry. I want us to be a passionate team, have passion about what they're doing and buy into what we're teaching. I think they are. I hope they continue with that energy that they brought to camp and bring it all the way to November."
"The athleticism and talent is probably some of the best I've been around in my 17 years in coaching."
"If we continue down the right path, absolutely. It's a long season, there are a lot of variables that come up during the season. We have to embrace a culture of trust within the team and continue to grow as a team. Our goal is to get better everyday. You have a lot of different girls that are molding into a team. It's fun watching it happen.
Follow the Pioneers on Twitter @PointParkSports and @PointParkVB