Point Park picked 2nd in KIAC Volleyball Preseason Coaches' Poll

Aug. 15, 2014 at 4:00 p.m. ET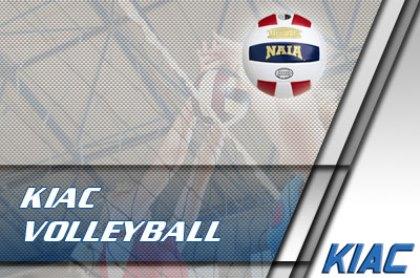 PITTSBURGH -- Point Park University was picked second in the Kentucky Intercollegiate Athletic Conference Volleyball Preseason Poll announced Thursday (Aug. 14) by the conference office.
Voting was conducted by the 11 KIAC volleyball head coaches, who predicted that Point Park will finish second behind near-unanimous preseason favorite Asbury (Ky.) University. Asbury received 10 of the 11 first-place votes and is coming off a 2013 season that saw it go 35-8 overall, 10-1 KIAC and win the KIAC Tournament.
Point Park was 21-19 overall, 8-3 KIAC last year and reached the semifinals of the KIAC Tournament, where it lost to Asbury (Ky.). The Pioneers had lost 10 seniors from the year before but still put up their fifth straight 20-win season and reached at least the conference tournament semifinals for the fourth time in five years.
But Point Park has five of six starters plus the libero returning for 2014 under now 10th-year head coach Mike Bruno. Point Park earned 78 points in the KIAC Preseason Poll, which was a distant second to Asbury with 100.
IU Kokomo, which was the only other team to get a first-place vote, got 75 points to tie for third with IU Southeast, the latter of which reached the finals of the KIAC Tournament last year.
Perennial KIAC contender IU East, which got the KIAC's second automatic bid to the NAIA national tournament last year as regular season runner-up, was picked fifth with 67 points. KIAC newcomer Rio Grande (Ohio) was right behind in sixth with 66 points before a big drop off.
Carlow (45 points) is seventh, Cincinnati Christian (42) is eighth, Midway (Ky.) (25) is ninth, Brescia (Ky.) (22) is 10th and Alice Lloyd (Ky.) (10) is 11th.
All 11 teams in the KIAC will travel to Point Park Nov. 14-15 for the 2014 KIAC Tournament. The conference tournament champion will receive the KIAC's only automatic bid to the NAIA national tournament.
The KIAC had two automatic bids to the national tournament last year since it had the required 12 schools for two automatic bids. Despite Rio Grande joining the conference, Berea (Ky.) and St. Louis College of Pharmacy departed to put the number of volleyball schools at 11 for 2014.
Point Park opens its 2014 season Aug. 22-23 at the Volley in the Mountains tournament hosted by Montreat (N.C.) College.
2014 KIAC Volleyball Preseason Coaches' Poll (Aug. 14, 2014) (First Place Votes in Parenthesis)
| | |
| --- | --- |
| School | Points |
| Asbury (Ky.) (10) | 100 |
| Point Park | 78 |
| IU Kokomo (1) | 75 |
| IU Southeast | 75 |
| IU East | 67 |
| Rio Grande (Ohio) | 66 |
| Carlow | 45 |
| Cincinnati Christian | 42 |
| Midway (Ky.) | 25 |
| Brescia (Ky.) | 22 |
| Alice Lloyd (Ky.) | 10 |