@PointParkVB picks up two victories on Saturday to win Battle of the Blvd
Sept. 6, 2014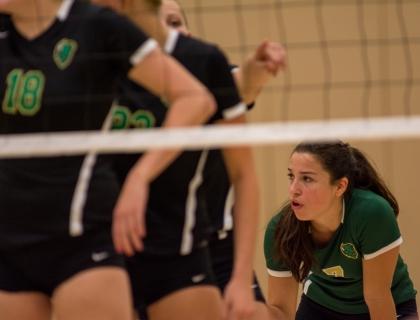 Point Park libero Tabea Dalliard and the Pioneers on Sept. 6, 2014 vs. CCU at the Student Center Gym. Photo by Chris Squier.
By Zachary Weiss, Point Park Athletic Communications Student Assistant
PITTSBURGH .— The Point Park University volleyball team won two matches on Saturday at the Student Center Gym in Downtown Pittsburgh to claim the title in the Point Park-Carlow Battle of the Boulevard. Point Park beat both Lawrence Tech (Mich.) and Cincinnati Christian on Saturday by a 3-0 score to complete a perfect, 3-0 weekend at the tournament it was co-hosting with Carlow.
Point Park improved to 6-6 overall and 3-0 KIAC after the big weekend and has now won four matches in a row. The four-consecutive wins this week followed four straight losses last weekend.
"This weekend really brought our confidence back, especially after that losing streak," Roxanne Grundmeier said. "This was exactly what we needed to do."
In the first match of the day, the Pioneers defeated Lawrence Tech [5-4, 1-0 WHAC] by scores of 25-14, 25-17, 25-17. As a team, Point Park had 31 kills versus 12 digs and a .241 total attack percentage.
Grundmeier led the way with eight kills, while Shiloh Simonson had six of the team's nine service aces. Tabea Dalliard had 10 digs and Emily Meng and Cara Bradley combined for 26 assists.
The Pioneers trailed in the early stages of the second set, however were able to reestablish momentum and take control.
"We came back stronger than we have in the past few weeks," said Meng. "Our energy is there, the talent is there and we're getting to know how everyone is playing. We're clicking a lot better than when we were traveling."
In the second match of the day, the Pioneers defeated Cincinnati Christian [3-3, 1-2 KIAC] by scores of 25-7, 25-20, 25-17.
Grundmeier, Kristi Chenarides, Ashley Taylor and Isabella Vavrek had six kills apiece. Katie Baynum added five and had 10 total kills in 15 total swings Saturday. The Pioneers had a total attack percentage of .421 for the match. Point Park hit an amazing .682 in the opening set, a 25-7 whitewash in which it totaled 15 kills and no errors in 22 attempts.
Meng had 20 digs for the match and in doing so eclipsed the 300 mark for the season.
Following the first set, the Pioneers could not create the same separation in set two.
"I think we need to talk more, we seem to lose focus when we stop talking and that brings every down and lose where we were," Grundmeier said.
Ultimately however, Point Park would emerge with a win and 2-0 lead in what was tied for the closest game score of its weekend. For the three weekend matches, the Pioneers produced 108 kills and 31 errors.
Point Park's next match is at home Tuesday versus at 7 p.m. versus NCAA Division II Edinboro. Watch Live on the Point Park Sports Network at
www.team1sports.com/PointParkSportsNetwork
Follow the Pioneers on Twitter @PointParkSports and @pointparkvb