Point Park volleyball schedule features 37 matches beginning Aug. 21
July 17, 2015 at 1:00 p.m. ET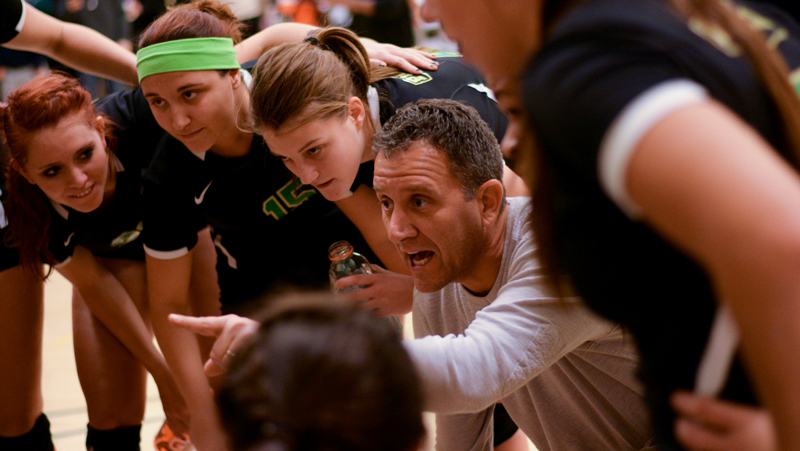 Photo by Chris Squier -- Point Park coach Mike Bruno and the Pioneers begin the 2015 season Aug. 21.
2015 SCHEDULE / PRINTABLE (PDF)
PITTSBURGH -- The 2015 Point Park University volleyball schedule has been announced featuring 37 matches beginning Aug. 21 at the Grace (Ind.) Tournament.
The Pioneers' 37 matches include 10 at home, 15 on the road and 12 at neutral sites. Point Park, the defending Kentucky Intercollegiate Athletic Conference Tournament champions, will play 12 KIAC matches with six at home, five on the road and one at a neutral site.
"Our out of conference schedule will lay a strong foundation to prepare us for the KIAC regular season and the KIAC Tournament," sad Point Park's 11th-year head coach Mike Bruno. "As a conference, the quality of play within the top of the KIAC continues to improve every year."
Point Park's schedule begins with three straight weekends at competitive tournaments, the final one of which is the Pioneers' home tournament. The Pioneers visit the Grace (Ind.) Tournament Aug. 21-22, the Lindsey Wilson (Ky.) Tournament Aug. 27-28 and host the Point Park Battle of the Boulevard in the Student Center Gym Sept. 4-5.
In all, the Pioneers will visit five tournaments on the year with the others being the Keiser (Fla.) University (formerly Northwood (Fla.)) Challenge on Oct. 10 and the Cornerstone (Mich.)/Aquinas (Mich.) Tournament Oct. 23-24.
Over the course of the five tournaments, Point Park will test itself against 16 schools from around the NAIA. A highlight will come at the Lindsey Wilson Tournament when the Pioneers face three teams that were mentioned in last year's final NAIA Top 25 Poll including No. 12 Lindsey Wilson.
Another highlight of the tournaments comes at the Battle of the Boulevard when the Pioneers will host NAIA schools IU East, Taylor (Ind.) and Lawrence Tech and NCAA Division II West Liberty.
Point Park's first KIAC match will occur Sept. 4 versus IU East as part of the Battle of the Boulevard at Point Park. It is the first of 12 KIAC matches. Other KIAC home opponents are Carlow (Sept. 16), Ohio Christian (Oct. 2), Midway (Oct. 2), West Virginia Tech (Oct. 20) and Rio Grande (Oct. 29).
The Pioneers will go on the road to face KIAC opponents IU Southeast (Sept. 18), Cincinnati Christian (Sept. 19), IU Kokomo (Oct. 17), Alice Lloyd (Ky.) (Nov. 6) and Asbury (Ky.) (Nov. 7). Point Park will play Brescia (Ky.) at neutral site Cincinnati Christian as part of a tri-match Sept. 19.
Point Park's non-conference schedule includes five matches versus NCAA Division II competition including home dates versus West Liberty (Sept. 4) and West Virgina Wesleyan (Oct. 20) and road trips to West Virginia Wesleyan (Sept. 8), Alderson-Broaddus (Sept. 9) and Pitt-Johnstown (Oct. 27).
For a complete 2015 Point Park University volleyball schedule, click the schedule link at the top of this page. Follow the Pioneers on Twitter @PointParkSports and @PointParkVB.