Point Park volleyball 2015 recruiting class announced with four players added

July 23, 2015 at 12:00 p.m. ET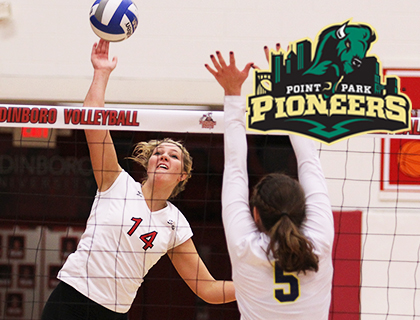 Megan Branchick is a 6-2 middle/right-side who has transferred from Edinboro. Photo by EU athletics.
PITTSBURGH -- Point Park University volleyball and head coach Mike Bruno have announced their 2015 recruiting class, which welcomes four players to the Pioneers' roster for the upcoming season.
Point Park has added two setters, a middle/right-side hitter and a defensive specialist to its roster, which has five of six starters returning to the team that won the KIAC Tournament championship last year with a record of 27-16 and reached the NAIA national tournament.
"We are very pleased with our 2015 newcomers," said Bruno, who begins his 11th year as head coach. "I am confident this class with have a positive impact on the program."
The Pioneers open the 2015 season on Aug. 21-22 at the Grace (Ind.) College Tournament. Here's a look at the 2015 @PointParkVB recruiting class:
MADISON WELDON (Setter, 5-6, Jr., Champaign, Ill./Parkland (IL) College)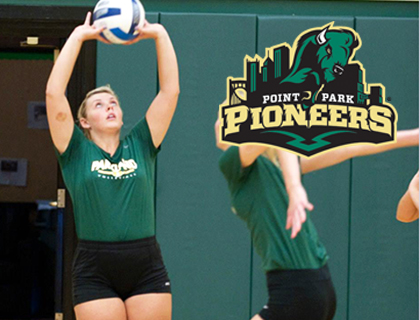 Madison Weldon joins the Pioneers after a two-year career as a setter for a very-successful Parkland (Ill.) College team. A 5-6 junior from Champaign, Ill., Weldon started for two years as a setter in a 6-2 offense. During that time, Parkland had a record of 106-6 and finished runner-up in the NJCAA Division II national championship both years.
Weldon was named NJCAA All-Region second team her sophomore year after compiling 897 assists for an average of 5.61 assists per set. She played in 56 of 57 matches and 160 sets. As a freshman, she averaged 3.19 assists.
At Champaign Centennial High School, she was a two-year starter at setter and helped her team to third place at the 2012 Illinois state championship tournament. She played club volleyball for Illini Elite and Prime Time and was a captain on her club team all four years of high school.
"Madison brings a proven track record of winning on the junior college level," said Bruno. "While at Parkland, she helped run an offense that took the team all the way to the national championship match two times. This is a sound addition to the team and one that understands the leadership role of a setter."
MEGAN BRANCHICK (Middle/Right-Side, 6-2, Jr., North Olmstead, OH/Edinboro)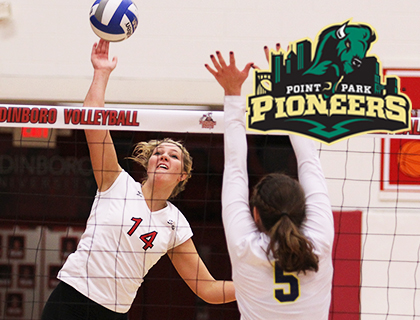 Megan Branchick has transferred from NCAA Division II Edinboro, where she put up 617 kills and 119 blocks over two years. A 6-2 junior who plays middle hitter or right-side hitter, she was All-PSAC West Second Team as a sophomore in 2013. That year, Branchick led Edinboro with 375 kills and was second on the team with 74 total blocks.
Branchick missed the 2014 season due to injury but is back healthy for her arrival at Point Park. The native of North Olmstead, Ohio, provided the Fighting Scots with constant production with 21 matches of 10 or more kills as a sophomore.
Branchick also had a good freshman year ranking third on the Edinboro team with 242 kills and 45 blocks. She played in all 33 matches and posted seven matches of 10 or more kills.
At North Olmstead High School, she was named the school's Top Female Athlete and was a three-time all-conference and all-district selection in volleyball. She played club ball for Southwest Volleyball Club.
"Megan comes to our program with a strong resume," said coach Bruno. "Her presences and physicality at the net will fare well for our program. She is a strong addition."
MORGAN DANGELO (Defensive Specialist, 5-2, Fr., Greenwood, Ind.)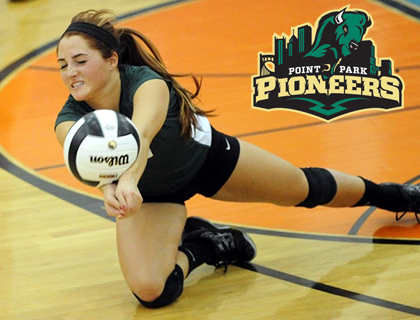 Morgan Dangelo is a freshman defensive specialist who will join the mix in the Pioners' back row in 2015. The 5-2 native of Greenwood, Ind., was a Mid-State All-Conference selection at Greenwood Community High School.
In high school, she amassed 468 digs, 48 services aces and served at 88.8 percent. She capped off her career by being named honorable mention all-county and the Daily Journal Female Athlete of the Year. A three-year letter winner at Greenwood Community, she was the team captain and most-improved player as a senior.
Dangelo compiled an extensive club volleyball resume with her most-recent team being The Academy Volleyball Club 18s. She also played for South Indy Volleyball Club, Indian Volleyball Academy and the Circle City Volleyball Club.
"Morgan is a big addition to our backcourt," said coach Bruno. "She is a technically sound volleyball player. Her transition to the college game will be a smooth one. She comes from a good club program."
GABRIELLA PICCOLINO (Setter, 5-4, Fr., North Versailles, Pa./Serra Catholic)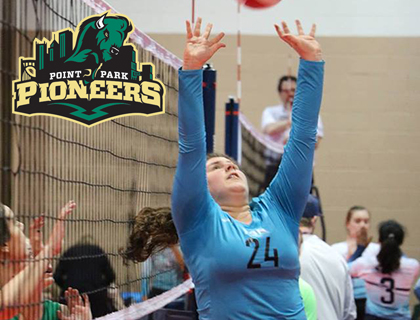 Gabriella Piccolino enters the program as freshman who will add depth to the setter position. She was a WPIAL all-section second-team selection at Serra Catholic High School. There, she won two varsity letters for the Eagles.
Piccolino played club volleyball for Pittsburgh 3 Rivers, which is co-directed by coach Bruno and former Pioneers' assistant Neal Brown. Before her time at P3R, she played club ball for Pitt Elite.
Piccolino, who is 5-foot-4, was a part of WPIAL section championships in 2011, 2012 and 2013 at Serra Catholic.
"Gabriella has a big upside," said coach Bruno. "She has a passion for the game that is unparalleled by many. She also brings a great knowledge of the game and is a good addition."
Follow the Pioneers on Twitter & Instagram @PointParkSports and @PointParkVB Like them on Facebook.com/PointParkAthletics