Point Park picked first in KIAC Volleyball Preseason Coaches' Poll

Aug. 20, 2015 at 10:30 a.m. ET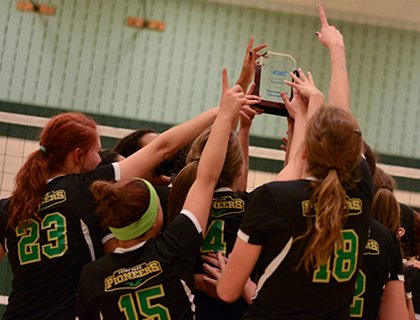 FLORENCE, Ky.  – Point Park (Pa.) University was picked as the conference favorite in the 2015 KIAC Volleyball Preseason Coaches' Poll announced by the league office.
Point Park has five starters returning from last year's KIAC Tournament championship team that was 27-16 overall and 8-2 KIAC. The Pioneers, who advanced to the NAIA National Championship Opening Round, received seven of the 12 first-place votes and had a conference-leading 127 points in the voting.
Point Park opens the 2015 season in the "others receiving votes" category of the NAIA Volleyball Coaches' Preseason Top 25 Poll (Aug. 18) and checks in at No. 29 overall in the nation.
The Pioneers open the season Aug. 21-22 at the Grace (Ind.) College Classic. Point Park's first match of the weekend is Friday at 5:30 p.m. versus Trinity Christian (Ind.). Live Video of three of Point Park's four matches will be provided by host Grace College at this link: Live Video
The KIAC Volleyball Preseason Coaches' Poll was conducted with voting of the conference's 13 volleyball head coaches. Coaches were not permitted to vote for their own teams.
Asbury (Ky.) University, last year's KIAC Regular Season champion, came in second in the preseason poll with 122 points and three first-place votes. The Eagles led the conference last year at 38-9 overall, 9-1 KIAC and are coming off a KIAC Tournament semifinals appearance.
IU Kokomo is predicted third this year with 114 points in the poll and the remaining two first-place votes. The Cougars, who enter their fourth year as a volleyball program, were 25-8 last year (7-3 KIAC) and were a KIAC semifinalist.
IU Southeast was the runner-up in the 2014 KIAC Tournament and is predicted in fourth place this year with 94 points in the poll. The Grenadiers were 17-19 overall last year and one of three teams that were 7-3 KIAC.
IU East (20-14, 7-3 KIAC in 2014) is right behind IU Southeast with 93 points and predicted in fifth place. Next is Rio Grande (19-19, 6-4 KIAC) in sixth place with 86 points.
Next in the poll are Cincinnati Christian (62 points) in seventh place, Ohio Christian (58 points) in eighth, Carlow (49 points) in ninth, Midway (Ky.) (46 points) in 10th, West Virginia Tech (37 points) in 11th, Brescia (Ky.) (36 points) in 12th and Alice Lloyd (Ky.) (12 points) in 13th.
The 2015 KIAC Volleyball season begins Aug. 21. All KIAC teams will play each other once during the regular season, and the top eight teams qualify for the KIAC Tournament Nov. 13-14 hosted by Rio Grande.
The KIAC Tournament champion and the KIAC Regular Season champion will receive an automatic berth to the NAIA Volleyball National Championship, which begins Nov. 21 with the Opening Round and continues Dec. 1-5 in Sioux City, Iowa.
Follow KIAC volleyball on KIACsports.com and on Twitter @KIACsports.
2015 KIAC VOLLEYBALL PRESEASON COACHES POLL (Aug. 14)
(First-Place Votes in Parenthesis)
| | |
| --- | --- |
| School | Points |
| 1. Point Park (Pa.) (7) | 127 |
| 2. Asbury (Ky.) (3) | 122 |
| 3. IU Kokomo (2) | 114 |
| 4. IU Southeast | 94 |
| 5. IU East | 93 |
| 6. Rio Grande | 86 |
| 7. Cincinnati Christian | 62 |
| 8. Ohio Christian | 58 |
| 9. Carlow (Pa.) | 49 |
| 10. Midway (Ky.) | 46 |
| 11. West Virginia Tech | 37 |
| 12. Brescia (Ky.) | 36 |
| 13. Alice Lloyd (Ky.) | 12 |