Point Park volleyball drops two matches on Day 2 of Grace (IN) Classic
Aug. 22, 2015 at 10:15 p.m. ET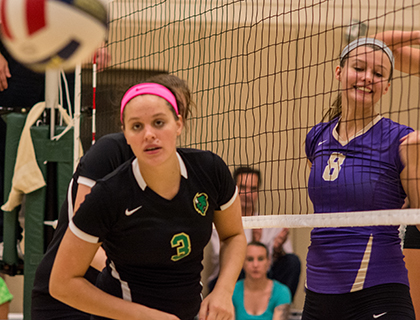 WINONA LAKE, Ind. – Point Park University volleyball dropped two matches on Day 2 of the Grace (Ind.) College Classic on Saturday with a 3-0 loss to IU Kokomo and a 3-0 loss to host Grace (Ind.).
Point Park's losses on Saturday came against the teams that finished first and second in the six-team tournament. The Pioneers (0-4) battled KIAC foes IU Kokomo (4-1) but came up short, 25-22, 25-19 and 25-16.
Grace (Ind.) (4-0) was in control with a 25-12 win in the first set before edging out Point Park in the next two sets, 25-22, 25-21.
Isabella Vavrek led both the offense and defense versus IU Kokomo with 11 kills and 16 digs. Shiloh Simonson was next in both categories with nine kills and 13 digs as those two combined for 20 of the Pioneers' 30 total kills.
Point Park had plenty of production the first two sets with 14 and 12 kills, respectively, as a team, but it came up with just four kills in the third as IU Kokomo put the match away. Elysie Younger and Lindi Thomas had nine kills apiece to tie for the Cougars' lead.
Versus Grace, Point Park was not on the top of its game for the first set with just three kills as a team. It got things going in the right direction with 10 kills apiece in the second and third. The problem was that Grace put up 12 kills in each of the last two sets to edge Point Park by a few points each time.
The Pioneers had most of their points come from the middle hitters as Cristiane Chaves posted a match-high 10 kills to go along with five blocks, and Nikki Inquartano had seven blocks. Simonson and libero Morgan Dangelo had 21 digs each to pace the squad.
Point Park returns to action next Thursday and Friday for four matches at the Lindsey (Ky.) Wilson Tournament. That includes an opening match versus NAIA No. 7 Lindsey Wilson (Ky.) and matches versus receiving-votes teams Bryan (Tenn.) and St. Catharine (Ky.).
Follow the Pioneers on Twitter @PointParkSports and @PointParkVB. Like the Pioneers on Facebook.com/PointParkAthletics