Point Park drops two tough matches to start Lindsey Wilson (Ky.) Classic
Aug. 27, 2015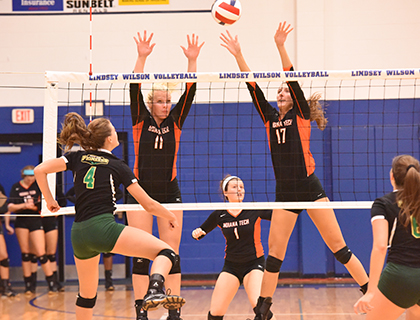 Isabella Vavrek attacks against the Indiana Tech defense Thursday night. Photo by LWC athletics.
COLUMBIA, Ky. -- Point Park University volleyball remained a few points away from clinching the sets it needed to win and came up with two tough losses to start the Lindsey Wilson (Ky.) Classic on Thursday.
Point Park (0-6) lost to Indiana Tech, 3-1, and fell to NAIA No. 7-ranked Lindsey Wilson (Ky.), 3-0. The Pioneers were close throughout both matches but are still in search of their first win of the season.
Point Park continues play at the 16-team event on Friday with matchups versus St. Catharine (Ky.) (3-3) at 9:30 a.m. CT and with Grace (Ind.) (4-0) at 1:30 p.m. CT. Live Stats are available for both matches.
Megan Branchick led Point Park with 10 kills and three blocks versus Indiana Tech (2-4), which bested the Pioneers by scores of 25-20, 25-17, 23-25, 25-18. The Warriors had 14 kills from Cassie Sarabia and 12 kills from Katelyn St. Martin to provide the difference.
Shiloh Simonson added seven kills and 12 digs for Point Park, and libero Morgan Dangelo tallied 10 digs. Emily Meng totaled 32 assists and five digs.
Versus No. 7 Lindsey Wilson (4-1), Point Park went toe to toe with the highly ranked Blue Raiders but was edged out, 25-21, 25-21, 25-18. Point Park had a better hitting percentage than Lindsey (.220 to .204), but LWC came away with the win aided by 10 service aces and a 52-32 advantage in digs.
Simonson had a match-high 11 kills for Point Park. Isabella Vavrek added six kills and six digs. Meng posted 20 assists and a team-high nine digs. At the net, Nikki Inquartano totaled six blocks.
For Lindsey Wilson, Ragni Knudsen led a balanced attack with 10 kills. The Blue Raiders had five players with at least seven kills each.
Follow the Pioneers on Twitter @PointParkSports and @PointParkVB. Like Point Park Athletics on Facebook.com/PointParkAthletics