Point Park comes up empty at Lindsey Wilson (Ky.) Classic
Aug. 28, 2015 at 11:40 p.m. ET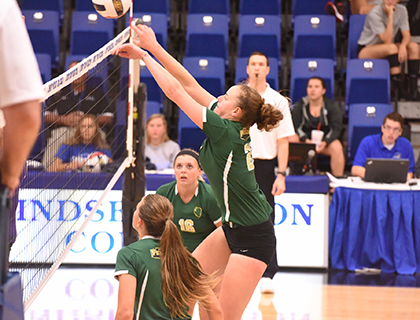 Nikki Inquartano blocks back a ball versus St. Catharine on Friday. Photo by LWC athletics.
COLUMBIA, Ky. – Point Park University volleyball came away on the losing end at the Lindsey Wilson (Ky.) Classic after taking defeats by score of 3-0 to St. Catharine (Ky.) and Grace (Ind.) on Friday.
Point Park (0-8) fell to St. Catharine (5-3) by scores of 25-17, 25-17, 25-16. The Pioneers lost to Grace (5-1) for the second time this year with scores of 25-12, 25-21, 25-15.
Friday was a continuation of Point Park's rough start to the year, which has the Pioneers playing without key players on offense and defense.  Offensively, Point Park couldn't come up with enough firepower with 25 and 16 kills in the two matches. Both St. Catharine and Grace were able to find the openings to each hit .257 versus the Pioneers.
Megan Branchick's seven kills led Point Park versus St. Catharine, and Cristiane Chaves and Nikki Inquartano chipped in five kills apiece. Shiloh Simonson led all players with 14 digs, and Paige Baker and Juliana Ross collected 10 digs each.
Simonson had six kills to lead Point Park versus Grace. Chaves was next with five kills, and Baker tallied a team-high 12 digs.
Point Park is off until next Friday when it hosts the Battle of the Boulevard next Friday and Saturday at the Student Center Gym. The event features five teams and 10 matches over two days beginning Friday at 10 a.m.
Follow the Pioneers on Twitter @PointParkSports and @PointParkVB. Like Point Park Athletics on Facebook.com/PointParkAthletics