Point Park wins at WV Wesleyan, coach Mike Bruno earns 250th win at school

Sept. 8, 2015 at 11:59 p.m. ET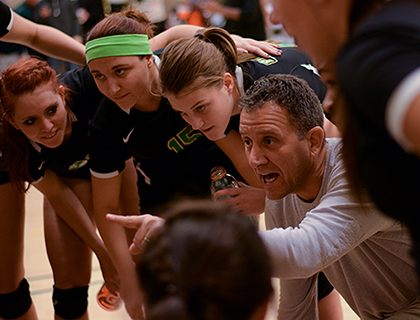 @PointParkVB head coach Mike Bruno is now 250-153 at the school (11th year). Photo by Chris Squier.
BUCKHANNON, W.Va. – The Point Park University volleyball team won at West Virginia Wesleyan on Tuesday night, 3-2, and it was milestone win number 250 at the school for Pioneers head coach Mike Bruno.
Bruno, in his 11th year at Point Park, is now 250-153 (.633) at the school. He is in his 16th year overall as a collegiate volleyball head coach. His career record of 366-201 (.643) puts him in 15th place on the wins list of NAIA active coaches.
The win over NCAA Division II West Virginia Wesleyan gives Point Park (3-10) three victories in its last four matches. The Pioneers had lots of production on Tuesday both on offense and defense.
Megan Branchick had 17 kills and five blocks to lead the scoring. Cristiane Chaves added 15 kills and 13 digs. Isabella Vavrek gave Point Park three players in double-digit kills with 12 kills and 22 digs.
Shiloh Simonson paced the defense with 24 digs and also collected nine kills. Setter Emily Meng totaled 47 assists, six kills and 16 digs. Libero Paige Baker racked up 19 digs. Madison Weldon chipped in four assists.
Point Park continues its road trip to West Virginia with another non-conference match Wednesday at Alderson-Broaddus. The match begins at 5 p.m. Live Video will be provided by A-B via livestream.
Follow the Pioneers on Twitter @PointParkSports and @PointParkVB. Like the Pioneers on Facebook.com/PointParkAthletics