@PointParkVB sweeps CCU tri-match for four KIAC wins in four days
Sept. 20, 2015 at 8:45 a.m. ET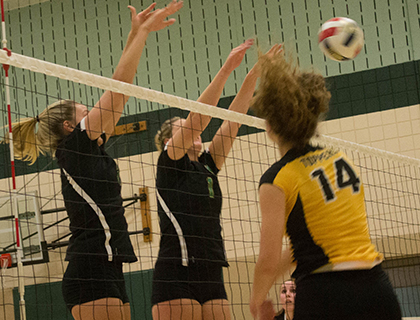 Point Park had 17 blocks in the win over CCU. Photo by Sam Robinson.
CINCINNATI, Ohio -- Point Park University volleyball swept the Cincinnati Christian tri-match on Saturday with wins of 3-0 over host CCU and 3-1 over Brescia (Ky.) to complete a stretch of four KIAC victories in four days.
The Pioneers (7-11, 4-1 KIAC) have won seven of their past nine matches and four in a row to improve to 4-1 in the KIAC.
Point Park beat Carlow at home on Wednesday before heading out on a weekend road trip that also included a 3-1, KIAC win at IU Southeast on Friday night.
The win over Cincinnati Christian was by scores of 25-22, 25-15, 25-19. Point Park lost the first set versus Brescia but won the match, 23-25, 25-19, 25-19, 25-19.
Versus CCU, Point Park got many of its points on the block with 17 total blocks as a team. Junior Megan Branchick posted eight kills and six blocks and hit .421 for the match. Shiloh Simonson added seven kills, five digs and five blocks.
Nikki Inquartano came up with six blocks, and Cristiane Chaves had four. Setter Emily Meng chipped in three blocks to go with her 17 assists. Paige Baker posted 15 digs, and Isabella Vavrek had 16.
In the win over Brescia, Branchick had another big match with 16 kills and a .406 attack percentage. Chaves had six kills and zero errors in 13 attempts for a .462 percentage.
Vavrek put down 13 kills to go with 10 digs. Simonson came up with nine kills, 10 digs and four blocks. Meng totaled 46 assists and six blocks. Inquartano added four blocks.
Point Park's offense had the kills hitting the floor as 50 of its 98 points in the match came from kills.
Point Park is now off until Oct. 2 when it hosts Midway (Ky.) and Ohio Christian for a KIAC tri-match at the Student Center Gym. Follow the Pioneers on Twitter @PointParkSports and Facebook.com/PointParkAthletics