Point Park keeps win streak rolling at Midway (Ky.) College Tri-Match
Sept. 12, 2014 at 11:59 p.m. ET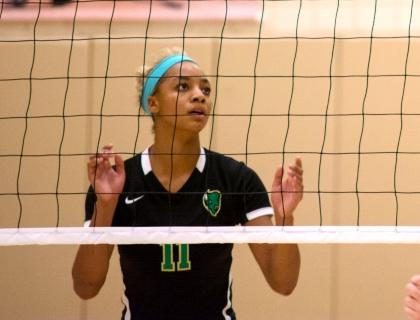 Middle Hitter Roxanne Grundmeier and the Pioneers have won 7 matches and 21 sets in a row. Photo by Chris Squier.
By Zachary Weiss, Point Park Athletic Communications Student Assistant

MIDWAY, Ky. -- The Point Park University volleyball team both of its matches Friday at the Midway (Ky.) College Tri-Match to extend its winning streak to seven in a row.
Point Park (9-6, 5-0 KIAC) beat KIAC opponents Alice Lloyd (Ky.) and Midway (Ky.) by scores of 3-0 to remain unbeaten in KIAC matches at 5-0. The Pioneers have won 21 sets in a row, and the last time they dropped a set was Aug. 30.

In the first match of the day, Point Park made easy work of Alice Lloyd (1-5, 0-2 KIAC) by scores of 25-3, 25-10, 25-6.

The first set versus Alice Lloyd featured 10 kills and no attack errors for the Pioneers for an amazing hitting percentage of .833, the highest for any set this season.

All 15 of the Point Park players in uniform saw action with Ashley Taylor leading the attack. Taylor had 14 kills in 18 total swings for a .722 hitting percentage. Ten Point Park players had digs led by Tabea Dalliard and Kelsey Veydt, who had six apiece. Setters Emily Meng and Cara Bradley combined for 39 assists.

In match two, Point Park defeated Midway (1-9, 1-5 KIAC) by scores of 25-21, 27-25, 25-11. After two close sets to take a 2-0 lead, the Pioneers put things away in the third with 14 kills and three errors in 24 swings for a hitting percentage of .458.

Of the 42 kills by the Pioneers, Roxanne Grundmeier had 12. Shiloh Simonson almost had a double-double with eight kills and 10 digs. Dalliard had a team high 20 digs for the match while Meng and Bradley teamed up for 38 assists.
"If we continue to grow as a team like this, things will continue to roll," Point Park co-captain and defensive specialist Kelsey Veydt said.

Point Park will conclude its road trip Saturday against Rio Grande in a match slated to start at 12 p.m. Live Video is available courtesy of the Red Storm at Team1Sports.com/RedStorm. WATCH LIVE

Follow the Pioneers on Twitter @PointParkSports and @pointparkvb