(RV) Point Park wins 1 of 2 matches on Day 2 of Indiana Tech Tournament
Oct. 25, 2014 at 9:50 p.m. ET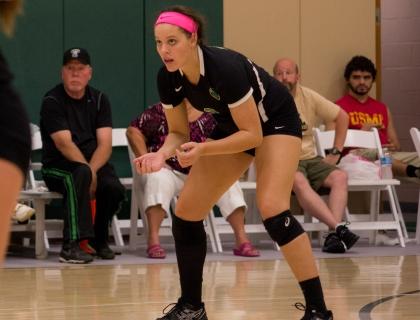 Point Park setter Emily Meng made the All-Tournament Team at Indiana Tech. Photo by Chris Squier.
By Zachary Weiss Point Park Athletic Communications Student Assistant
FORT WAYNE, Ind.—The Point Park University volleyball team split matches Saturday at the Liz Lykowski Memorial Tournament hosted by Indiana Tech losing to St. Catharine (Ky.), 3-2, and beating Kentucky Christian, 3-0.
Point Park (23-13, 8-1 KIAC) lost, 3-2, to St. Catharine's by scores of 23-25, 25-11, 13-25, 25-23, 15-13. It was a matchup of teams that are both receiving votes in the NAIA Top 25 Poll.
Point Park's Shiloh Simonson returned from an injury that kept her of a match on Friday and had a career-high 21 kills for a .348 attack percentage. She also had 18 digs.
Kristi Chenarides had a career-high 19 kills in the loss.  Setter Emily Meng had 47 assists and 10 digs while Tabea Dalliard took top dig honors with 21 digs. Olivia Fisher also made a significant contribution with her 10 digs.
In the third set of the match, the Pioneers had 15 kills and three errors on 31 total swings, good for a total attack percentage of .387. That strong performance gave Point Park a 2-1 lead in the match, but they could not hold off St. Catharine, which improved to 25-8 on the year.
Point Park won, 3-0, against Kentucky Christian by a score of 25-21, 25-19, 25-20. The Pioneers had 43 kills and an attacking percentage of .223 for the match.
Simonson had 16 kills and 15 digs in the match for her second double-double of the day. Roxanne Grundmeier had a .632 attack percentage with 12 kills on 19 total swings. Meng had 28 assists while Dalliard had 19 digs to again take top dig honors.
Emily Meng was named to the All-Tournament Team putting up a combined total of 147 assists and 33 digs. Meng also had three just service errors on 56 total attempts a 94.6 percent success rate.
Point Park will not play again until Saturday when it takes on KIAC opponent Asbury (Ky.) at 10 a.m. and Glenville State at 2 p.m in the Student Center Gym.
Asbury lost, 3-2, on Saturday to Indiana University Kokomo to fall to 7-1 in the KIAC. The match between Asbury and Point Park (8-1 KIAC) will not only serve as Senior Day for Olivia Fisher, Roxanne Grundmeier and Kelsey Veydt, but also will determine the KIAC regular season champion and number one seed for the KIAC Tournament to be played at Point Park Nov. 14-15.
Follow the Pioneers on Twitter @PointParkSports and @pointparkvb