@PointParkVB goes 2-0 on Day 1 of Volley in the Mountains at Montreat (N.C.)
Aug. 22, 2014 at 11:55 p.m. ET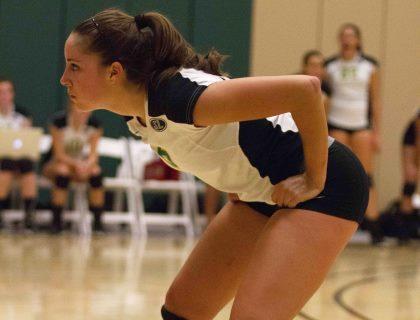 Shiloh Simonson and the Pioneers started the 2014 season 2-0 on Friday. Photo by Evan Schall.
By: Zachary Weiss, Point Park Athletic Communications Student Assistant

MONTREAT, N.C -- The Point Park University volleyball team opened its 2014 season with a pair of victories at the Volley in the Mountains at Montreat (N.C.) College on Friday.  The Pioneers (2-0) defeated Webber International (Fla.), 3-1, and beat host Montreat (N.C.), 3-2. 
The Pioneers topped Webber International (0-2), 25-18, 22-25, 25-17, 25-14. Point Park downed Montreat (0-2), 25-18, 20-15, 25-18, 23-25, 15-7.

In the opening win over Webber International, the Pioneers combined for 23 kills and eight errors in the first two sets. In the fourth and final game, they added another 15 kills.

Outside hitter Shiloh Simonson led Point Park with 15 kills and 12 digs. Outside hitter Kristi Chenarides added 13 kills in her first college match. Setter Emily Meng had 36 assists while defensive specialist Olivia Fisher and libero Tabea Dalliard combined for 15 digs. The team also added 12 aces.

"That game was really fun to play," Simonson said. "It was the first time we were officially playing as a team so we had our rough patches but ultimately I think we grew from the match."

In the victory over Montreat, the Pioneers needed five games to beat the Cavaliers but emerged victorious. Point Park took early leads in the first four games and then cruised to a 15-7 win in the clincher.

In the first game, the Point Park lead was 17-,7 and the offensive effort was led by Simonson and right-side hitter Ashley Taylor, who combined for seven kills. Although Montreat cut into the lead, the comeback attempt ended with a Simonson kill to close out the set

The Pioneers built a 10-5 lead in game number two but were unable to maintain the pace. With the score tied at 15, the Cavaliers won seven of the next eight points and used that momentum to tie the match, 1-1

With the match squared, and the third game tied at 14, freshman libero Tabea Dalliard recorded an ace to take the lead. From there, the lead increased to 21-15 and Point Park was able to finish the game on top.

In game four, the momentum continued to the tune of a 15-6 lead for Point Park. But Montreat made a comeback thanks to serving up three aces and getting the benefit of six service errors by the Pioneers. That got Montreat back into the set, and the Cavaliers eventually won the set, 25-23.

In the fifth and final game, the teams split the first eight points, 4-4. It was then that the Pioneers capitalized on Montreat errors and won 10 consecutive points to take an 11-2 lead. Needing 15 points to win the match, Nikki Inquartano clinched the win with a kill.

Taylor led the Pioneers with 13 kills while Dalliard had 15 digs. Isabella Vavrek had three of the team's eight aces. Meng dished out another 38 assists to go along with seven kills. Simonson totaled eight kills while Inquartano and Chenarides chipped in six apiece.

Point Park will conclude its trip in Montreat Saturday when it faces Coastal Georgia and NAIA Top 25 preseason No. 10 Lindsey Wilson (Ky.). Coastal Georgia won 36 games last season and beat Lindsey Wilson Friday, 3-0.

Follow the Pioneers on Twitter @PointParkSports and @pointparkvb