Point Park loses two matches to tough teams on Day 2 at Montreat (N.C.)

Aug. 24, 2014 at 7:00 a.m. ET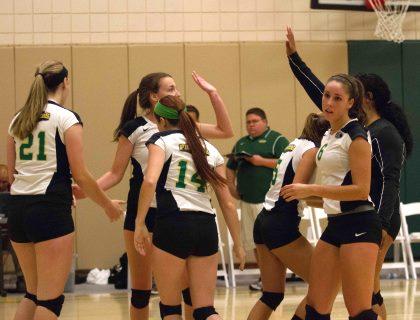 By Zachary Weiss, Point Park Athletic Communications Student Assistant

MONTREAT, N.C. -- The Point Park University volleyball team lost both matches by a score of 3-0 on Saturday at the Volley in the Mountains at Montreat (N.C.) College. The Pioneers (2-2) fell to Coastal Georgia and NAIA No. 10-ranked Lindsey Wilson (Ky.).
Coastal Georgia (4-0), which was picked as the preseason favorite in the Southern States Athletic Conference, topped Point Park (2-2) by scores of 25-23, 25-19, 25-19. It was a tight battle, but Coastal Georgia, which had beaten No. 10 Lindsey Wilson in a sweep on Friday, came out on top.
At 4-0 on the weekend, Coastal Georgia was the tournament winner. Lindsey Wilson went 3-1 on the weekend to finish second, and it beat Point Park, 25-17, 25-18, 25-18.
Coastal Georgia head coach Jeff Huebner told the team's website that he was happy to take the tournament title, and that having teams like Lindsey Wilson and Point Park in attendance made it a strong event.
 "On the weekend, it was exciting to go perfect," said Huebner. "The tournament was a good one with Point Park and Lindsey Wilson. We got some great feedback from those coaches who feel we should be ranked in the top 15."

The Pioneers had a slow start in that opening match hitting for an attacking percentage of only .171 with 10 kills, their lowest numbers for any set of the match. In the second set, Point Park had its best hitting percentage of .286 with 14 kills, but it wasn't enough.

Shiloh Simonson had 13 kills against Coastal Georgia and added seven digs. Tabea Dalliard had a team-leading 15 digs and four aces. Other contributors included Ashley Taylor and Kristi Chenarides, who combined for 16 kills and Emily Meng, who had 33 assists.

Against Lindsey Wilson (3-1), the Pioneers' attack was held in check with an attacking percentage of only .084.  Lindsey Wilson put percentages of .390, .200 and .172 in the three sets and hit .241 for the match.

Chenarides and Simonson combined for 14 of the 28 Point Park kills. Dalliard had 11 digs, and Meng had 21 assists.

The Pioneers will next be in action Friday and Saturday at the St. Xavier/Trinity Christian Tournament. In Friday's matches, they will have a rematch against Lindsey Wilson at 6 pm and play St. Francis (Ill.) at 8 pm.

Follow the Pioneers on Twitter @PointParkSports and @pointparkvb