Point Park splits two matches on Day 1 of Battle of the Boulevard
Sept. 4, 2015 at 11:45 p.m. ET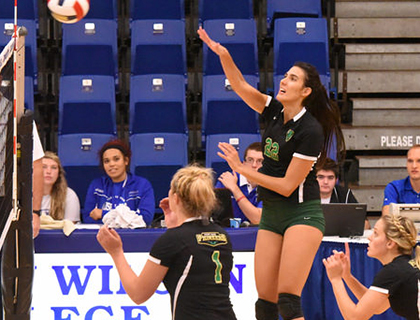 Cristiane Chaves led Point Park with 18 kills in the two matches Friday. Photo by LWC athletics.
PITTSBURGH -- Point Park University volleyball got in the win column by splitting two matches on Friday on the first day as host of the Battle of the Boulevard at the Student Center Gym.
The Pioneers (1-9, 0-1 KIAC) started out with a 3-0 loss to Indiana East in a KIAC match but followed that up with a 3-0 defeat of NCAA Division II West Liberty.
Like the previous eight matches on the year, Point Park's match with Indiana East (5-6, 1-0 KIAC) had very close sets but had the Pioneers come up with the loss in the final score. The Pioneers lost that match, 27-25, 25-23, 25-22.
The close sets that they had been unable to win earlier in the day turned in their favor with the key points going their way in the Pioneers' win over West Liberty (1-1) by scores of 28-26, 25-23, 25-19.
Senior Cristiane Chaves had a big match in the win over West Liberty with a team-high 11 kills, eight digs and three blocks. Isabella Vavrek added nine kills compared to just one error.
Defensively, Shiloh Simonson came up with 16 digs to go along with six kills, and Paige Baker and Emily Meng posted 13 digs each. Meng totaled 30 assists. Nikki Inquartano contributed six kills.
Versus Indiana East, Vavrek's eight kills and Chaves' seven led the Pioneers. Chaves also paced the team with 10 digs, and Emily Meng totaled 20 digs. Inquartano ended up with seven total blocks.
Point Park continues with Day 2 of the Battle of the Boulevard on Saturday morning at 8 a.m. versus Lawrence Tech. The Pioneers also play Taylor (Ind.) at 2 p.m.
After five complete matches on Day 1, Taylor leads the field at the Battle of the Boulevard with a 2-0 record. Coming in at 1-1 were Point Park, Indiana East and West Liberty. Lawrence Tech was 0-2. Follow the results at the Tournament Central Page.
Live Video of Point Park's matches is available on Stretch Internet: portal.stretchinternet.com/ppu. Follow the the Pioneers on Twitter @PointParkSports and @PointParkVB