@PointParkVB beats Lawrence Tech, loses to Taylor at Battle of the Blvd
Sept. 5, 2015 at 8:15 a.m. ET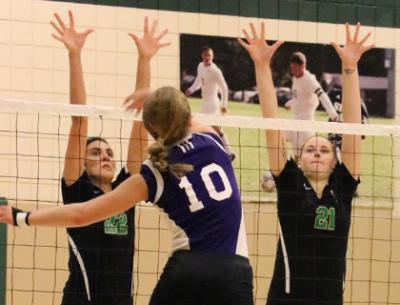 Cristiane Chaves (left) and Nikki Inquartano go up for a block versus Taylor on Saturday. Photo by Neal Brown.
PITTSBURGH – Point Park University volleyball registered a 3-1 victory over Lawrence Tech (Mich.) but lost a heartbreaker to Taylor (Ind.), 3-2, on Saturday, the final day of its Battle of the Boulevard at the Student Center Gym in Downtown Pittsburgh.
The Pioneers won the final three sets versus Lawrence Tech to take the match, 26-28, 25-20, 25-20, 25-22. Point Park was in control against eventual tournament champion Taylor with a 2-0 lead in the match. But after a big rally, Taylor came away with the match, 22-25, 18-25, 25-21, 25-22, 16-14.
In the win over Lawrence Tech, Cristiane Chaves posted 12 kills, and Shiloh Simonson had 11 to pace Point Park's offense. Isabella Vavrek put down nine kills, Megan Branchick had six and Nikki Inquartano had four. Vavrek, Branchick and Inquartano combined for just two hitting errors.
The defense was a team effort with five players registering at least 10 digs. Vavrek led the way with 16 while libero Paige Baker, setter Emily Meng and Chaves had 14 each. Simonson chipped in 12 digs. Meng totaled 41 assists.
In the loss to Taylor, Simonson had a huge match of 17 kills and 23 digs. Vavrek added 12 kills and 16 digs. Chaves collected 21 digs, and Meng again had 41 assists. Meng, Chaves and Branchick came in with six kills apiece.
Point Park is in action next with a mid-week trip to West Virginia Wesleyan on Tuesday and Alderson-Broaddus on Wednesday. Follow the Pioneers on Twitter @PointParkSports and @PointParkVB