Pioneers lose at NCAA DII Alderson Broaddus on second day of road trip

Sept. 9, 2015 at 11:10 p.m. ET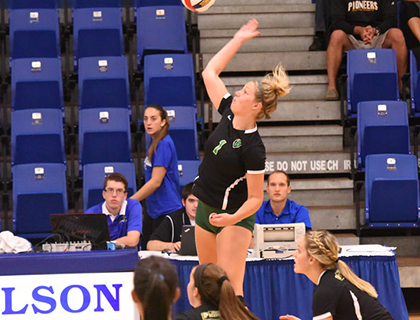 Megan Branchick had a team-high seven kills in the three-set match. Photo by LWC athletics.
PHILIPI, W.Va. -- On the second day of a two-day trip to the state of West Virginia, the Point Park University volleyball team suffered a 3-0 loss at NCAA Division II Alderson Broaddus on Wednesday night.
Alderson Broaddus (2-3) heated up the offense as the match went along and won by scores of 25-22, 25-15, 25-6. The Battlers made 16 kills versus just one error in the third set to put the match away versus Point Park (3-11).
Point Park had won three of its last four matches entering Wednesday, but Alderson Broaddus was able to cool off the Pioneers. Megan Branchick claimed team-high honors on the attack for Point Park with seven kills.
Shiloh Simonson and Cristiane Chaves posted nine kills each, and they had nine and 12 digs, respetively. Paige Baker had 14 digs for the most on the team.
Point Park is off this coming weekend but returns to action next Wednesday for a KIAC home match versus Carlow. Match time is 7 p.m. at the Student Center Gym. Watch Live on Stretch Internet at portal.stretchinternet.com/PPU
Follow the Pioneers on Twitter @PointParkSports and on Facebook.com/PointParkAthletics