Point Park win streak extends to 8 matches, 24 sets with victory at Rio Grande

Sept. 13, 2014 at 8:50 p.m. ET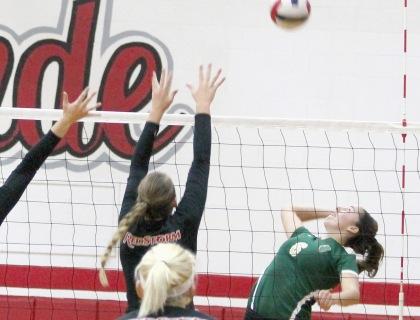 Shiloh Simonson goes up for a kill at Rio Grande on Saturday. Photo courtesy URG athletics.
By Zachary Weiss, Point Park Athletic Communications Student Assistant

RIO GRANDE, Ohio -- The Point Park University volleyball team extended its match winning streak to eight in a row with a 3-0 victory Saturday against KIAC opponent Rio Grande (Ohio) on the road.

The Pioneers are now 10-6 on the season and 6-0 in the KIAC. The have won 24 straight sets and have firm hold of first place in the KIAC as they remained unbeaten with already six of their 10 conference matches in the books.

Point Park won by game scores of 25-19, 25-21, 29-27 against Rio Grande (5-10, 2-1 KIAC).
Shilloh Simonson led the Pioneers in kills with 12 in addition to 14 digs. Isabella Vavrek added nine kills, and Keaton Sausman chipped in seven kills. Tabea Dalliard had 18 digs, and the setting duo of Emily Meng and Cara Bradley totaled 26 and nine assists, respectively.
The front row had a good presence in blocks with Roxanne Grundmeier and Sausman registering three apiece. Vavrek's all-around, strong match included not only nine kills but also eight digs and two blocks.
The Pioneers' most efficient set was its second putting together 15 kills and three errors in 33 swings for a .364 hitting percentage.

Point Park's next match is Tuesday when it plays host to Fairmont State at 7 p.m. in the Student Center. Point Park's Campus Activities Board will host at Tailgate in Village Park from 5 to 7 p.m.

Follow the Pioneer on Twitter @PointParkSports and @pointparkvb