Point Park bumps win streak to 9 matches, 27 sets with win over Fairmont St.
Sept. 16, 2014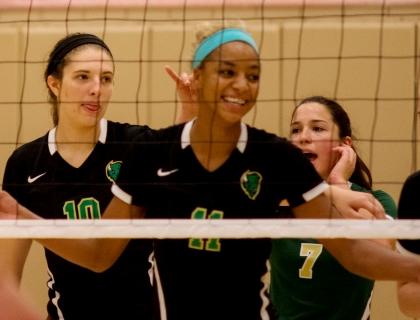 PITTSBURGH -- The Point Park University volleyball team kept its win streak rolling on Tuesday with a 3-0 home victory over NCAA Division II Fairmont State in the Student Center Gym. The Pioneers (11-6, 6-0 KIAC) have now won nine straight matches, all by scores of 3-0, for 27 consecutive sets without a loss.
Fairmont State (7-2) was Point Park's latest victim despite entering Tuesday's match with only one loss. Nonetheless, the Pioneers won by scores of 29-27, 25-16, 25-21.
The first set could've gone either way, but Point Park pulled it out on its fourth set point. Fairmont State had two set points but could not put the game away.
Point Park took control of the second set thanks to Shiloh Simonson's serving. The Pioneers earned a side-out for a 16-15 lead, and Simonson proceeded to serve for seven consecutive points to extend the lead to 23-15 as part of a 10-1 Point Park run. Simonson finished with five aces, six kills and 12 digs.
The Pioneers used their advantage on the attack to close out the match by registering 16 kills and a .333 hitting percentage in the third set. Defensively, Point Park held FSU to a .122 attack percentage in that set.
Freshmen Ashley Taylor and Kristi Chenarides led the attack with 11 and 10 kills, respectively. Setters Emily Meng (22 assists) and Cara Bradley (16 assists) spread the ball around to Simonson (6 kills), Roxanne Grundmeier (7 kills), Isabella Vavrek (6 kills) and Keaton Sausman, the last of which contributed three kills in only six swings.
The Point Park defense had double-digit dig performances from libero Tabea Dalliard (15 digs), Simonson (12 digs) and Bradley (11 digs) as well as nine digs from Olivia Fisher. That held the FSU attack in check for a .117 hitting percentage.
Point Park gets back into KIAC play with Friday night's home match versus IU Kokomo (7-6, 2-1 KIAC). The match begins at 7 p.m. in the Student Center Gym. WATCH LIVE on the Point Park Sports Network on Team1Sports.com.
The Pioneers visit the Wheeling Jesuit tri-match on Saturday where they will see host team, NCAA Division II No. 6 Wheeling Jesuit as well as West Virginia State.
Follow the Pioneers on Twitter @PointParkSports and @PointParkVB