@PointParkVB wins at IU Southeast to begin KIAC, weekend road trip
Sept. 19, 2015 at 7:30 a.m. ET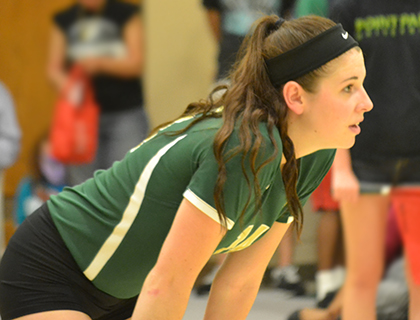 Paige Baker totaled 31 digs in the victory at IU Southeast. Photo by Sam Robinson.
NEW ALBANY, Ind. -- Point Park University volleyball picked up a big win on Friday night at IU Southeast, 3-1, to start its weekend road trip with a victory. The Pioneers (5-11, 2-1 KIAC) won the KIAC match, 25-23, 25-23, 20-25, 25-22.
Point Park has now won five of its last seven matches and two straight KIAC matches. The Pioneers continue their road trip Saturday at the Cincinnati Christian tri-match where they will see host CCU at 10 a.m. and also Brescia at 12 p.m. for a pair of KIAC contests.
It was a close battle throughout with IU Southeast (5-6, 1-1 KIAC) on Friday night in what was a rematch of the 2014 KIAC  Tournament championship match won by Point Park by the same score of 3-1. The latest matchup was even closer with just 12 points separating the teams across the four sets.
But it was Point Park that got the big points it needed led by Isabella Vavrek with 17 kills, which tied for the match high with IU Southeast's Hannah Joly. Vavrek also added 11 digs and hit .316 for the match.
Shiloh Simonson also reached double digits in kills and digs for Point Park with 10 and 18, respectively. Paige Baker came up big on defense with 31 digs to lead the match.
Megan Branchick totaled nine kills. Pioneers setter Emily Meng contributed in many areas with 34 assists, eight kills and seven digs. Nikki Inquartano added six kills.
Follow the Pioneers on Twitter @PointParkSports and @PointParkVB and online at PointPark.edu/Athletics.