Point Park splits matches at Wheeling Jesuit, has win streak end at 11 matches
Sept. 20, 2014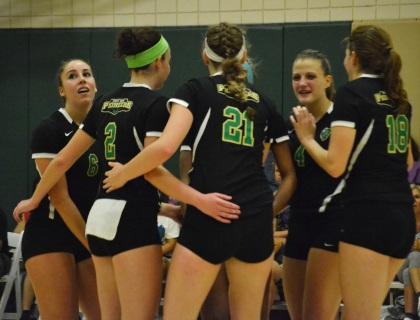 STATS vs. WVSTATE  STATS vs. WJU
By Zachary Weiss. Point Park Athletic Communications Student Assistant

WHEELING, W.Va. -- The Point Park University volleyball team split two matches at the Wheeling Jesuit Tri-Match on Saturday beating West Virginia State, 3-1, and losing to host Wheeling Jesuit, 3-0, to end its win streak at 11 matches.
Both of Saturday's opponents hailed from NCAA Division II with host Wheeling Jesuit currently ranked No. 9 in the nation. The Pioneers are 3-1 versus NCAA DII teams this year.
The Pioneers (13-7, 7-0 KIAC) beat West Virginia State (2-9, 0-2 MEC) by scores of 25-20, 25-23, 25-27, 25-13 and had 62 kills in the victory. 
Freshman right-side hitter Kristi Chenarides had 15 kills for the second consecutive match. Also among the team leaders in kills were Shiloh Simonson (12), Isabella Vavrek (9) and Roxanne Grundmeier (8).
Setters Emily Meng and Cara Bradley combined for 55 assists with  . Dig leaders included Simonson (15) and Tabea Dalliard (13).  Keaton Sausman put up six blocks.

Point Park suffered its first loss since August 30 at the hands of Wheeling Jesuit (11-1, 2-0 MEC). The Cardinals beat the Pioneers,25-7, 25-16, 25-14. In the match, the Pioneers had 21 kills and 20 errors for a hitting percentage of .008.

Point Park had 69 total digs led by Dalliard's 18. Simonson had 13 digs and a team high six kills. The first set saw the Pioneers hit -.147 getting four kills and nine errors.

Point Park's next match is a home contest Wednesday versus another NCAA Division II school, West Liberty. Match time at the Student Center Gym is 7 p.m.

Follow the Pioneers on Twitter @PointParkSports and @pointparkvb