Point Park volleyball starts weekend trip with five-set loss at Indiana East
Oct. 3, 2014 at 11:00 a.m. ET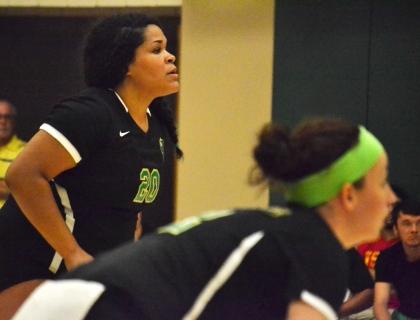 Olivia Fisher had 16 digs in the loss at Indiana East on Thursday. Photo by Karen Mao.
By Zachary Weiss, Point Park Athletic Communications Student Assistant
RICHMOND, Ind.. – Seeing its first action in over a week, the Point Park University volleyball team fell 3-2 on the road to KIAC opponent Indiana University East on Thursday night (Oct. 2).
The loss puts the Pioneers at 14-8 on the season and 7-1 in the KIAC. IU East is now 10-9 and 3-2 in the KIAC and has won six in a row.
Point Park won the first game, 25-23. It overcame three-point deficits on a few occasions throughout the set, and setter Emily Meng hit an ace to take a 23-21 lead that would be maintained by the Pioneers for the remainder of the set.
The Pioneers lost set number two, 25-19. They trailed 5-2 before taking a 6-5 lead. IU East would regroup however and open up a seven-point lead by the middle of the game. The Red Wolves had 13 kills versus three errors in game two.
Point Park won the third game, 25-12, and in doing so handed IU East it's largest margin of defeat in a set this season. The Pioneers had 11 kills and four errors for the game on 22 total swings, a hitting percentage of .318. Point Park led 10-9 but closed the set on a 15-3 scoring run which included four service aces, two of which were from setter Cara Bradley.
In the fourth game, Point Park held a 17-14 lead and was points away from winning the match, however,  the Red Wolves benefited from three Pioneer attack errors to tie the game.  IU East went on to win the set, 25-22, to force a final set.
IU East got off to a quick start in the final game and took a 9-4 lead. Point Park would rally to bring the deficit to 9-8, which led to a Red Wolves timeout.  The Pioneers did not score a point following that time out to lose the game 15-8.
This is Point Park's first five set loss this season as it was 2-0 in five-setters coming into this match.
The Pioneers had 45 kills for the match, led by right side hitter Ashley Taylor, who had a career-high of 16 kills. Outside hitter Isabella Vavrek added 10 kills.
Setter Emily Meng had 31 of the 44 total Point Park assists. The Pioneers also had nine service aces with defensive specialist Olivia Fisher and Cara Bradley each having three. The team also had 11 service errors. Libero Tabea Dalliard led Point Park with 21 digs in the match.
This is the 19th time in 22 matches this season Dalliard has had the team-high dig total. Other contributors towards the team's 73 total digs were outside hitter Shiloh Simonson 16 and Fisher who also had 16.
Point Park's weekend road trip continues with three matches Friday-Saturday at the Indiana Wesleyan/Taylor (Ind.) Crossover Tournament. There the Pioneers will play Indiana Wesleyan (14-3) on Friday night at 5 p.m. followed by matchups with Taylor (Ind.) (14-4) Saturday at 11 a.m. and versus NAIA No. 14 Georgetown (Ky.) (12-4) Saturday at 3:30 p.m.
Live Video and Live Stats will be provided by Taylor sports information for the match versus Taylor on Saturday at 11 a.m.
Follow the Pioneers on Twitter @PointParkSports and @pointparkvb