Point Park starts weekend tournament with 3-1 loss to Indiana Wesleyan
Oct. 4, 2014 at 6:45 a.m. ET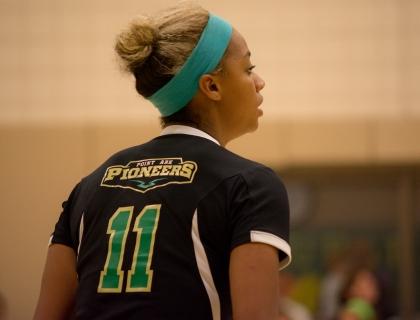 Roxanne Grundmeier had a team-high 10 kills versus Indiana Wesleyan. Photo by Chris Squier.
By Zachary Weiss Point Park Athletic Communications Student Assistant
UPLAND, Ind. -- The Point Park University volleyball team fell, 3-1, to Indiana Wesleyan Friday to open the Indiana Wesleyan/Taylor (Ind.) Tournament and bring the Pioneers' record to 14-9 overall.
Indiana Wesleyan (15-4, 9-1 Crossroads), which is receiving votes in the NAIA Top 25 Poll, beat Point Park, 16-25, 25-18, 25-15, 25-13 as the Pioneers are 0-2 so far on their weekend road trip.
The tournament continues Saturday with matches versus Taylor (15-5) at 11 a.m. and No. 14 Georgetown (Ky.) (14-4) at 3:30 p.m.
In Point Park's first-set victory over Indiana Wesleyan, it had 14 kills and three errors on 40 total swings for an attack percentage of .275. The second game was the last time the Pioneers had a double digit kill total in the match. In the final set, Point Park had six kills and nine errors on 34 total swings.
Indiana Wesleyan outside hitter Bianca Cifaldi led all players with 12 kills. Indiana Wesleyan, which had its 13-match win streak ended with a loss to Taylor (Ind.) earlier in the day, had a 48-39 advantage in kills for the match, nine fewer errors and a .168 advantage in total attack percentage.
Roxanne Grundmeier led Point park with 10 kills and one error on 21 total swings for a .429 attack percentage.  Grundmeier also led the team with 20 digs. Shiloh Simonson added nine kills and 13 digs. Setters Emily Meng (18) and Cara Bradley (10) combined for 28 assists. Olivia Fisher also was a key contributor with 15 digs.
Live Video and Live Stats will be available for Saturday's match with Taylor. Check the Point Park volleyball schedule page on the Pioneers' website for links to live coverage.  
Follow the Pioneers on Twitter @PointParkSports and @pointparkvb