Point Park beats No. 14 Georgetown (Ky.) to highlight Day 2 at IWU/Taylor

Oct. 4, 2014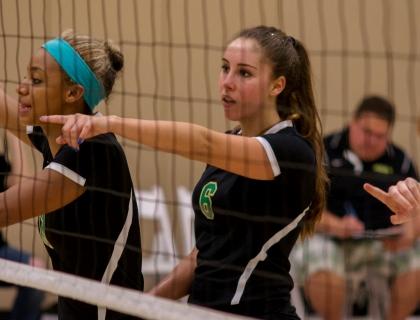 Shiloh Simonson (center) and the Pioneers beat No. 14 Georgetown and lost to Taylor on Saturday. Photo by Chris Squier.
By Zachary Weiss, Point Park Athletic Communications Student Assistant
MARION, Ind. – Point Park University volleyball upset NAIA No. 14 Georgetown (Ky.), 3-2, on Saturday to highlight Day 2 of the Indiana Wesleyan/Taylor (Ind.) Tournament. The Pioneers (15-10, 7-1 KIAC) started the day with a 3-2 loss at Taylor (Ind.) but rebounded to get their first victory over an NAIA Top 25 team this year.
Georgetown (Ky.) was 14-4 coming into its match against Point Park and had beaten Taylor (Ind.), 3-0, earlier in the weekend. And although Georgetown won the third set, 25-16, to take a 2-1 lead in the match, Point Park won the final two sets in dramatic fashion, 29-27 and 15-13. The match started with Georgetown taking the opening set, 25-21, and Point Park won the second set by the same score.
Ashley Taylor led Point Park with 15 kills while Simonson and Cara Bradley each had 10. Bradley, who is normally a setter, was used as an outside hitter due to injuries to Isabella Vavrek and Kristi Chenarides.
Emily Meng had a very strong match with 42 assists and 20 digs. Libero Tabea Dalliard posted a team-high 27 digs, while Shiloh Simonson had 23, Olivia Fisher had 15 and Paige Baker had 10. In total, the Pioneers had 112 digs. A consistent Point Park offense had double-digit kills in each set.
Against Taylor (16-5), the Pioneers lost a very close match in five sets, 26-24, 23-25, 27-25, 20-25, 15-10.
Simonson led all players with 16 digs and two aces and also added 22 digs. Taylor had 12 kills while Grundmeier and Bradley had 10 apiece. Emily Meng handed out 53 assists.
In addition to Simonson, four other Pioneers had double-digit dig totals led by Dalliard's 33. Baker had 15, and Meng added 11. Point Park had a double-digit kill total in every set except the final game. In that game the Pioneers scored nine of their 10 points by kills.
Next up for Point Park is the Clearwater Christian Tournament in Florida October 10-11.
Follow the Pioneers on Twitter @PointParkSports and @pointparkvb