Point Park wins first two matches of Clearwater Christian (Fla.) Invite
Oct. 10, 2014 at 11:30 p.m. ET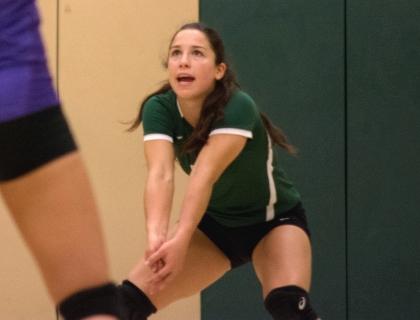 Point Park libero Tabea Dalliard had 48 digs in the two victories on Friday. Photo by Chris Squier.
By Zachary Weiss, Point Park Athletic Communications Student Assistant
CLEARWATER, Fla. – The Point Park University volleyball team won both of its matches Friday on the opening day of Clearwater (Fla.) Christian Invitational with victories over Northwood (Fla.) University, 3-0, and Florida College, 3-2.
Point Park (17-10, 7-1 KIAC), which is receiving votes in the NAIA Top 25 Poll this week, now has a three-match winning streak and is 15-4 since Sept. 1. The Pioneers will play host Clearwater Christian (Fla.) (9:30 a.m.) and Ave Maria (Fla.) (11:30 a.m.) on Saturday morning.
Against NAIA Northwood (10-11, 4-4 Sun), the Pioneers won, 25-19, 25-19, 36-34. Although Point Park won in stretch sets, it had to go extra points to close out the match.
The Northwood match was the first time Point Park played a set that required 30 or more points to win since October 4, 2011 when the Pioneers bested previously undefeated Walsh for the first time in program history.
Shiloh Simonson paced Point Park with 11 kills and nine digs. Cara Bradley added 10 kills in her third match at the outside hitter position after moving over from setter to make up for some injuries at the net.
Emily Meng provided 40 assists, nine digs and four blocks. Ashley Taylor chipped in nine kills and two blocks while Roxanne Grundmeier added seven kills and five blocks. Keaton Sausman contributed four kills and three blocks.
Tabea Dalliard added a team-leading 25 digs to take care of the defense.
In the first two sets, Point Park compiled 25 kills and six errors and then added an additional 21 kills in the third set.
Versus Florida College (16-6), Point Park won in five sets, 25-14, 17-25, 22-25, 25-12, 20-18. For the second time on the day, the Pioneers had to win the final set in extra points and this time came back from a 2-1 deficit in the match.
Simonson and Bradley led the Pioneers once again on the attack. Simonson had 13 kills and 19 digs while Bradley added 11 kills and eight digs.
Taylor totaled nine kills and four blocks, Sausman recorded five kills and an amazing 10 blocks. Grundmeier added four kills and four blocks. Meng had 44 assists and 13 digs.
The Pioneers had 98 digs as a team with other leaders being Dalliard (23 digs), Olivia Fisher (14) and Paige Baker (10) reaching double figures. For Dalliard, it was her 21st match of the season with a double-digit dig total.
Something else of note was the return of Kristi Chenarides from injury. Chenarides had two kills in three total swings.
This was the first time Point Park had a five-set match go beyond 15 points in the final set since a 3-2 loss to Fairmont State on Oct. 1, 2012 in which the final set score was 16-14.
This also was the first five-set win in which the final game went beyond 15 points since October 3 2009 when Point Park defeated Ohio Dominican 17-15 in the final game for the 3-2 victory.
The Pioneers had at least nine kills in each of the five games and in the sets they won, Point Park had 31 kills and nine errors.
Point Park now has won 18 consecutive matches in the Clearwater Christian Tournament with the last loss coming October 8, 2010 to St. Thomas University.
It will look to extend that streak with two matches Saturday against host Clearwater Christian (9:30 a.m.) and Ave Maria (Fla.) (11:30 a.m.), which will conclude a stretch of eight straight matches away from home.
Follow the Pioneers on Twitter @PointParkSports and @pointparkvb