(RV) Point Park completes 4-0 weekend for team title at Clearwater Christian
Oct. 11, 2014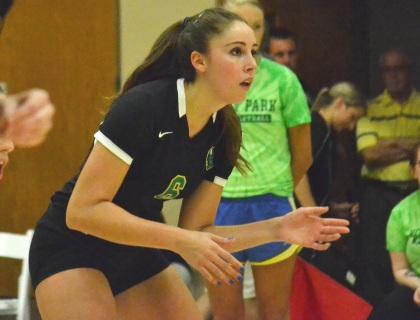 Shiloh Simonson posted double-doubles in kills and digs in both matches Saturday. Photo by Karen Mao.
By Zachary Weiss, Point Park Athletic Communications Student Assistant
CLEARWATER, Fla. – The Point Park University volleyball team, which is receiving votes in the NAIA Top 25 Poll this week, won matches against host Clearwater Christian (Fla.) and Ave Maria (Fla.) on Saturday to win the team title at the Clearwater Christian Invitational Tournament.
Point Park (19-10, 7-1 KIAC) first defeated tournament host Clearwater Christian (15-13) in straight sets, 25-14, 25-23, 25-20. Point Park made it a perfect, 4-0 weekend by defeating Ave Maria (3-15), 3-1. That win came by scores of 25-15, 25-10, 18-25, 25-19 to seal the tournament win.
The Pioneers combined for 29 kills and seven errors in sets one and three versus Clearwater Christian. Point Park trailed, 20-19, in game two before tying things up at 23-23. Then libero Tabea Dalliard had a service ace, and a Pioneers block result in a set victory. Point Park won the first six points of game three to take control.
Emily Meng had 31 assists to eclipse 700 assists for the season. Dallaird surpassed 400 digs and Olivia Fisher 200 with 21 and 17 digs, respectively.
Shiloh Simonson had 14 kills, 10 digs and four service aces. Ashley Taylor had 11 kills in 17 total swings for a .529 hitting percentage. Roxanne Grundmeier's six kills on 12 total swings gave her a .417 hitting percentage.
In the win over Ave Maria, the Pioneers went back to a two-setter system with Cara Bradley joining Meng. The two combined for 43 assists with Meng dishing out 28.
This meant that Kristi Chenarides returned to outside hitter and had seven kills. Taylor had a team-leading 12 kills and had a hitting percentage of .429. Simonson had another double-double with 10 kills and 18 digs.
Grundmeier (nine) and Keaton Sausman (eight) also made contributions towards the team's 51 total kills. Dalliard and Fisher once again proved to be defensive forces with 16 and 14 digs, respectively.
In the second game of the match, Point Park had 16 kills and two errors, good for a .452 hitting percentage.
Point Park now has won 20 consecutive matches in the Clearwater Christian Invitational Tournament with the last loss coming October 8, 2010 to St. Thomas University.
The Pioneers' next match will be Tuesday Oct. 14 at 3 p.m. against Bethany College in the Student Center G
 Follow the Pioneers on Twitter @PointParkSports and @PointParkVB
Follow the Pioneers on Twitter @PointParkSports and @pointparkvb