Pioneers beat Bethany at home, still 'Receiving Votes' in NAIA Top 25

Oct. 14, 2014 at 11:15 p.m. ET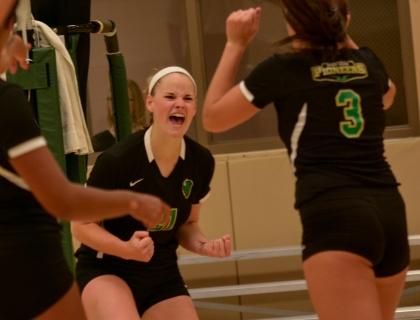 Nikki Inquartano celebrates a point during the win over Bethany on Tuesday. Photo by Chris Squier.
By Zachary Weiss, Point Park Athletic Communications Student Assistant 
PITTSBURGH — The Point Park University volleyball team defeated NCAA Division III opponent Bethany College 3-1 Tuesday in the Student Center Gym to reach the 20-win plateau for the sixth straight season.
Point Park (20-10 7-1 KIAC) won the match 25-13, 22-25, 26-24, 25-22 against Bethany (17-10, 10-1 PAC). Also from Tuesday, the Pioneers remained in the 'others receiving votes' section of the NAIA Top 25 Poll released by the national office. NAIA Top 25.
"We played really well in the first set, and then we lost our concentration after the first set," Point Park libero Tabea Dalliard said. "We were actually surprised how they came back and we just made stupid mistakes. Afterwards we played well, but not our best."
The Pioneers took the first set and had a total attack percentage of .407 compiling 12 kills versus one error. In game two, Point Park led, 14-10, and, 18-13, however was unable to hold the lead.
In set number three, Point Park overcame 9-6, 19-16 and 20-17 deficits to take a 24-22 lead, however the Bison came back to tie the set at 24-24. The Pioneers overcame eight errors with 19 kills. The last one came from setter Emily Meng and after an attack error by Bethany, Point Park had a 2-1 match lead by pulling out the third set, 26-24.
Point Park turned on the offense in the final set with 17 kills versus only four attack errors.
Point Park had 58 kills for the match led by Shiloh Simonson's total of 14. Kristi Chenarides added 12 while limiting her attack errors to one. Keaton Sausman had 10 kill and a .588 attack percentage.
Meng dished out 35 assists while Cara Bradley added 12 assists of her own. Dalliard picked up 20 digs to lead the team while Olivia Fisher added 14 digs.
The victory was a milestone for Point Park as it was the sixth consecutive season with at least 20 wins. In the past eight years, the Pioneers have had 20 wins on seven occasions.
"It's a standard that we set and we look to exceed it every year," head coach Mike Bruno said. "We had a slow start, but at the end of it, the 7-1 [KIAC record] is what we're concentrating on. It's more about the conference tournament and regular season. We're only as good as our next match."
Point Park will next face KIAC opponent Brescia (Ky.) Sunday with the opening serve set for 12 p.m. at the Student Center Gym. The match also serves as the annual Volley for Vision in which fans will be able to pledge money for each dig the Pioneers have in the match or pledge a flat donation with 100 percent of the proceeds going to the Team Cassie Fund. For more information please visit www.volleyforvision.org.
Follow the Pioneers on Twitter @PointParkSports and @pointparkvb