Point Park beats Pitt-Johnstown, remains "Receiving Votes" in NAIA Top 25
Oct. 21, 2014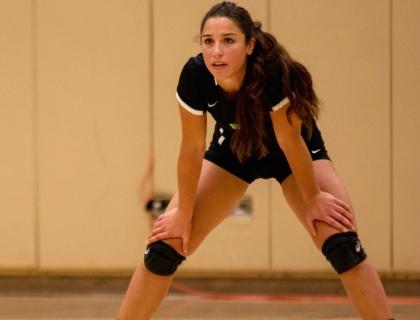 Tabea Dalliard, a libero from Switzerland, had 22 digs on Tuesday. Photo by Chris Squier.
By Zachary Weiss, Point Park Athletic Communications Student Assistant

PITTSBURGH -- The Point Park University volleyball team defeated Pitt-Johnstown, 3-2, Tuesday night in the Student Center Gym despite losing its 2-0 lead in the match.

With the win, Point Park is 22-10 on the season to surpass last year's win total of 21. The Pioneers are now 5-1 versus NCAA Division II competition this year after the win over Pitt-Johnstown (11-11, 7-8 PSAC).

"It just means we're playing harder this year, and that's what we aim for," Shiloh Simonson said. "We aim to be better every year."
Also on Tuesday, the Pioneers remained in the 'others receiving votes' section of the NAIA Top 25 Poll and came in at No. 36 overall in the nation. It is the third week in a row that Point Park has received mention in the rankings.

Point Park jumped out to a 2-0 lead over Pitt-Johnstown by scores of 25-21 and 25-22 behind a combined 21 kills. In set two, the Pioneers had just three attack errors.  However, the Pioneers dropped the next two sets by scores of 25-20 and 25-18.

"We lacked communication in the second, third and fourth sets," said Simonson. "(Pitt-Johnstown) had more communication and desire than we did."

In the third set, Point Park's 10 kills were cancelled out by 10 attack errors in 40 attempts for an attack percentage of .000. Pitt-Johnstown experienced its offensive peak in the fourth set with 15 kills in 31 attempts to knot the match at 2-2.

The teams alternated points to begin the fifth set before Point Park started to pull away at 13-9, which forced a Pitt-Johnstown timeout. Following the timeout, the Pioneers made a key block on Mahony which was the turning point of the game.

"That was huge because it took her self esteem down, which brought the rest of their team down, which made them vulnerable," Simonson said.

Point Park took the final game 15-9 to win the match. Simonson and Kristi Chenarides had double digit kills in the match with 12 and 11, respectively. Setters Emily Meng and Cara Bradley had 29 and 14 assists.
Three Pioneers had double-digit dig totals with Tabea Dalliard leading the way with 22. Olivia Fisher added 15 and Meng 10. In total, the Pioneers had 11 service aces.

Next up for the Pioneers is the Indiana Tech Tournament Friday and Saturday. In Friday's matches, Point Park will face St. Francis (Indiana) and host Indiana Tech.

Follow the Pioneers on Twitter @PointParkSports and @pointparkvb