(RV) Point Park drops both matches on Day 1 of Indiana Tech Tournament
Oct. 25, 2014 at 8:10 a.m. ET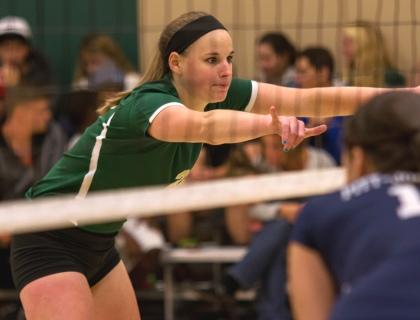 Nikki Inquartano had a combined 20 kills in the two matches on Friday. Photo by Chris Squier.
By Zachary Weiss, Point Park Athletic Communications Student Assistant
FORT WAYNE, Ind. -- The receiving votes Park University volleyball team dropped both matches at the Indiana Tech Tournament Friday. It lost 3-2 to St. Francis (Ind.) and 3-1 to host Indiana Tech.
The Pioneers are 22-12 and had their eight game winning streak come to an end.
Against St. Francis, Point Park won the first set and was later up, 2-1, but lost by scores of 15-25, 29-27, 19-25, 26-24, 15-11.
Olivia Fisher led the Pioneers with 10 kills and added 14 digs, while Nikki Inquartano and Shiloh Simonson each had nine kills. Setter Emily Meng had 38 assists and 12 digs while Tabea Dalliard had 32 digs to lead the team.
Point Park fell to Indiana Tech later in the day, 21-25, 25-18, 25-12, 27-25.
In its set victory, Point Park had 15 kills and five errors on 34 total swings for an attack percentage of .294. In the third set the Pioneers had two total kills and a -.241 attack percentage.
After taking a 2-1 lead with the big performance in the third, Indiana Tech closed out the match by winning a close fourth set.
Inquartano had a team-high 11 kills in the match while Kristi Chenarides added nine of her own. Meng had 34 assists, and Dalliard took top dig honors with 23.
Point Park's 0-2 showing on Friday came without its top two leaders in kills for much of the day. Simonson and Ashley Taylor both went down with injuries versus St. Francis (Ind.), the first match of the day.
Point Park will take on St. Catharine (Ky.) at 12:15 p.m. and Kentucky Christian at 2:30 p.m. on Saturday to complete the Indiana Tech Tournament. Live Video and Live Stats will be available for the St. Catharine match courtesy of Indiana Tech.
Follow the Pioneers on Twitter @PointParkSports and @pointparkvb