Point Park volleyball loses regular-season finale at Shippensburg, 3-1
Nov. 5, 2014 at 6:30 a.m. ET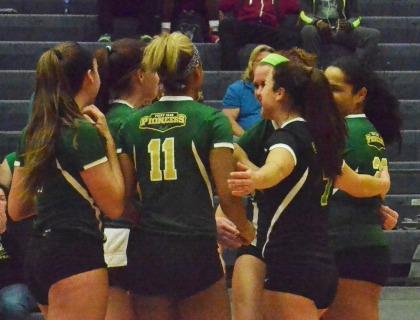 Point Park celebrates a victory in set 1 Tuesday at Shippensburg, but it lost the next three. Photo by Zachary Weiss.
By Zachary Weiss, Point Park Athletic Communications Student Assistant

SHIPPENSBURG, Pa.-- The Point Park University volleyball team lost its regular season finale, 3-1, at NCAA Divisioin II Shippensburg Tuesday night.

The Pioneers (24-15, 8-2 KIAC) took the first set, 26-24, however lost the final three games, 25-14, 25-15, 25-22.

 "It was a really close game in the first set, but the second and third game, I don't know what it is but we keep letting up and that's not fair to us as a team to keep doing this to ourselves," right side hitter Ashley Taylor said.

Point Park led the first set, 11-4, before Shippensburg (16-15, 8-12 PSAC) called a timeout. The Raiders cut the score to 11-10 and shortly took the lead before the Pioneers reclaimed an advantage, 16-13.

Shippensburg tied the set at 22-22 and had a set point at 24-23. A Point Park timeout resulted in a Pioneers point and ultimately three consecutive points to take the opening game, 26-24.

In the early going, the second set was tied at 9-9, but Shippensburg started to build a small advantage. Point Park came back to cut the Raider lead to 14-13 and then a medical timeout was called. After the stoppage, the Pioneers won one point for the remainder of the game. The 25-14 setback tied the match at one.

Shippensburg carried this momentum into the third set taking a 14-8 lead en route to a 25-15 game three victory. The Raiders had 11 kills and two errors in the third set, while the Pioneers hit .029

In game four, the teams traded points. When Point Park led 20-19, Shippensburg used its second and final timeout of the set. The Raiders would then win three consecutive points to seize control of the set, which they ultimately won by three.

Ashley Taylor led Point Park with 14 kills to tie a career high while also hitting .314. Kristi Chenarides added 10 kills. Setter Emily Meng had 29 assists and 12 digs. Libero Tabea Dalliard led the Pioneers with 24 digs, while Shiloh Simonson and Olivia Fisher had 21 and 20 digs, respectively.

The Pioneers will next play in the KIAC Tournament, which they host Nov. 14-15 in the Student Center Gym in Downtown Pittsburgh. Point Park will be seeded second and has a first round bye.

Taylor believes that everything needs to start over beginning Wednesday.

"Morning practice Wednesday, we have to act like it's a new day and start fresh," said Taylor. "If we play like this, there's no way we're going to make it past the first round."

Follow the Pioneers on Twitter @PointParkSports and @pointparkvb.