Point Park beats Brescia to advance to KIAC Volleyball Tournament semifinals
Nov. 14, 2014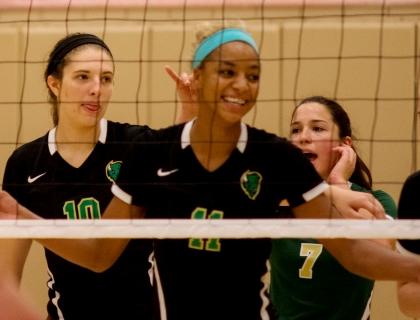 TOURNAMENT CENTRAL 
By Zachary Weiss Point Park Athletic Communications Student Assistant
PITTSBURGH – The Point Park University volleyball team won its KIAC Tournament quarterfinal match, 3-0, Friday night against Brescia (Ky.) University in front of a standing-room-only crowd in the Student Center Gym in Downtown Pittsburgh.
Point Park won the match by scores of 25-12, 25-14, 25-13. For the match, the Pioneers had a total attack percentage of .380 to punch their ticket into the KIAC Tournament semifinals for the third year in a row.
Point Park (25-15, 8-2 KIAC), the No. 2 seed, moves on to face No. 3 seed Indiana Kokomo (25-7, 8-2 KIAC) in the tournament semifinals on Saturday, Nov. 15 at 12 p.m. in the Student Center Gym. The winner will advance to the finals at 3;30 p.m. to play for an automatic bid to the NAIA national tournament.
The Pioneers had 40 kills versus No. 10 seed Brescia (7-23) led by Cara Bradley, Kristi Chenarides and Shiloh Simonson, who all had seven kills. Bradley also had 15 assists in split time as an outside hitter and setter, while Simonson had a team leading 11 digs. Setter Emily Meng had 21 assists.
Point Park had double-digit kills in each set and had just 10 total errors for the match. It was Point Park's first match since Nov. 4.
The match also marked the return of Isabella Vavrek who made her first appearance since leaving the Oct. 2 match against Indiana University East with injury. Vavrek played as a defensive specialist in the third set.
Asbury, which is the top seed in the tournament, will face No. 4 seed IU Southeast Saturday at 10 a.m. in the other semifinal.
The 2014 KIAC Volleyball Tournament is being hosted in the Student Center Gym on the campus of Point Park University and day one of the event featured three first round matches and four quarterfinal matches.
All but one match ended up finishing in three sets with the opening round match-up between Carlow and Brescia going four games with the Bearcats winning. Other first round winners were Midway and Rio Grande.
KIAC Day 1 Play:
First round:
#9 Midway 3 #8 Cincinnati Christian 0 [25-19, 25-15, 25-23]
#10 Brescia 3 #7 Carlow 1 [25-19, 18-25, 25-21, 25-22]
#6 Rio Grande 3 #11 Alice Lloyd 0 [25-7, 25-8, 25-9]
Quarterfinals:
#1 Asbury 3 #9 Midway 0 [25-13, 25-13, 25-20]
#4 IU Southeast 3 #5 IU East 0 [29-27, 25-22, 25-23]
#2 Point Park 3 #10 Brescia 0 [25-12, 25-14, 25-13]
#3 IU Kokomo 3 #6 Rio Grande 0 [25-19, 25-22, 26-24]