Point Park wins KIAC Tournament, qualifies for NAIA National Championship

Nov. 15, 2014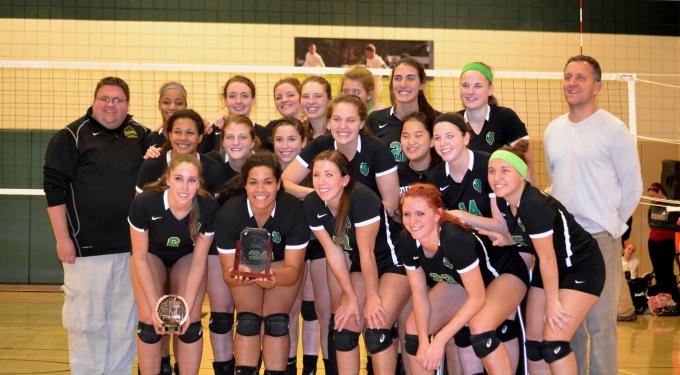 Photo by Zachary Weiss
KIAC TOURNAMENT CENTRAL PAGE / CHAMPIONSHIP MATCH PHOTOS
By Zachary Weiss, Point Park Athletic Communications Student Assistant

PITTSBURGH, Pa. -- The Point Park University volleyball team defeated Indiana University Southeast, 3-1, Saturday in the finals of the KIAC Tournament at the Student Center Gym to qualify for the NAIA National Championship Opening Round for the second time in program history.
The Pioneers (27-14, 8-2 KIAC), the No. 2 seed in the 11-team, single-elimination tournament, won three matches over two days to claim the conference title. Point Park started the day Saturday with a 3-1 win over No. 3 seed IU Kokomo in the semifinals before defeating No. 4 seed IU Southeast in the championship match.
Point Park will play in the NAIA National Championship Opening Round, the first stage of the 36-team NAIA national tournament, on Nov. 22. The Pioneers will learn their opening round pairing and site when the matchups are announced Monday, Nov. 17 at 1 p.m. ET in a broadcast event on NAIAnetwork.com.

"This is such an amazing feeling but we have so much work ahead of us," setter Emily Meng said. "Right now we have so much time so soak this in. This is unreal."

Point Park defeated IU Kokomo 25-22, 25-21, 21-25, 25-12 in the semifinals. The Pioneers had 50 kills in the victory led by outside hitter Kristi Chenarides with 13 kills on 24 swings for a total attack percentage of .391. Shiloh Simonson had 11 kills and 12 digs, and Ashley Taylor added eight kills.

Setters Emily Meng and Cara Bradley contributed 23 and 22 assists, respectively. Meng also added 10 digs. Libero Tabea Dalliard had 18 digs.

A big difference-maker was Isabella Vavrek, who returned to action on Friday from a more than month-long injury to play defensive specialist. On Saturday, she played her usual role of outside hitter with four kills on five swings for a .800 total attack percentage.

"Today I went offensively and it worked," Vavrek said. "This was such a huge victory."

Against IU Southeast, Point Park won 25-21, 25-23, 28-30, 25-20 to win its first KIAC Tournament.

Senior Roxanne Grundmeier had 12 kills and no errors on 28 total swings for a .429 total attack percentage. Also with double digit kills was Chenarides and Simonson who each had 11.  Simonson also had 17 digs.
Bradley recorded 30 assists and 15 digs, and Meng had 24 assists and 10 digs. Dalliard totaled 20 digs.

Point Park had five championship points in the third set but IU Southeast extended the match with a 30-28 win. The first championship point came at 24-22, but Point Park could not finish off that one or the other four. Nonetheless, senior co-captain Kelsey Veydt did not panic.

"Honestly, I knew we were going to win," said Veydt. "It's volleyball. Things will go for the other team sometimes. You've just got to keep pushing."
Point Park eventually got the championship points it needed in the fourth set, and it was Vavrek who slammed home the final kill for a 25-20 win the clinching set.
The KIAC Tournament title is the second conference tournament title in team history and its first since joining the KIAC in 2012. The program's first conference title was the 2011 American Mideast Conference Tournament championship, which was also won in Point Park's Student Center Gym.
The Pioneers qualified for the NAIA National Championship Opening Round in 2011 when they followed up their AMC Tournament title with a win over Holy Names (Calif.) in the AMC/Cal Pac Unaffiliated Group Championship Match, which was required since the AMC did not have the required six teams for an automatic NAIA bid.